Intensive Comprehensive Aphasia Programmes: a systematic scoping review and analysis using the TIDieR checklist for reporting interventions
Monnelly, K.

ORCID: 0000-0002-3112-9830, Marshall, J.

ORCID: 0000-0002-6589-221X & Cruice, M.

ORCID: 0000-0001-7344-2262 (2021). Intensive Comprehensive Aphasia Programmes: a systematic scoping review and analysis using the TIDieR checklist for reporting interventions. Disability and Rehabilitation, 44(21), pp. 6471-6496. doi: 10.1080/09638288.2021.1964626
Abstract
PURPOSE: Aphasia is an acquired language disorder that typically occurs as a result of a stroke. People with aphasia experience communication difficulties and risk secondary impacts, for example, affecting social and work life and mental health. Intensive Comprehensive Aphasia Programmes (ICAPs) aims to address the multiple consequences of aphasia using intensive intervention and a wide range of therapy approaches. Although basic parameters of ICAP intervention have been defined, a fuller characterisation is needed. This systematic scoping review aimed to determine what constitutes an ICAP.
METHODS: Peer-reviewed and Grey databases were searched for articles on ICAPs using Joanna Brigg's Institute methodology. Data was extracted following the Template for Intervention Description and Replication (TIDieR) checklist for reporting interventions and synthesised using a narrative synthesis.
RESULTS AND CONCLUSIONS: 17 ICAPs were reported in 20 peer-reviewed literature sources (9 ICAPs supplemented by Grey literature sources). There were high degrees of variation in dose, professionals involved, and no qualitative data from participants. Of note, ICAP intervention was highly tailored to individual participants on the same ICAP, and intervention content varied between ICAPs. ICAPs appear to be rationalised as intensive impairment-based programmes with other components added for comprehensiveness. Stronger rationale and a logic model are required to justify the core components of ICAPs. The input of stakeholders into designing future ICAP interventions is recommended.
IMPLICATIONS FOR REHABILITATIONThe ICAP model is in its infancy when it comes to mainstream clinical application as only the intensity component of the ICAP has clear theoretical underpinning as reported in the peer-reviewed literature.There have been clinical uptakes of the ICAP model which is likely to continue and is valid in the context of an under-researched area of aphasia therapy and on a background of a less than perfect relationship between evidence base and practice.Aspects of the ICAP model are valid for clinicians to implement, for example, intensive evidence-based aphasia therapy in combination with therapy which addresses some of the broader implications of aphasia, for example, social isolation.Clinicians can use the ICAP model to review their existing service provision and explore whether their service provides aphasia therapy that addresses the multiple aspects of aphasia (i.e., ensuring the focus is not only on impairment-based therapy).
Publication Type:
Article
Additional Information:
Copyright 2021 The Author(s). Published by Informa UK Limited, trading as Taylor & Francis Group. This is an Open Access article distributed under the terms of the Creative Commons Attribution-NonCommercial-NoDerivatives License (http://creativecommons.org/licenses/by-nc-nd/4.0/), which permits non-commercial re-use, distribution, and reproduction in any medium, provided the original work is properly cited, and is not altered, transformed, or built upon in any way.
Publisher Keywords:
Aphasia, stroke, intensive, rehabilitation, scoping review, speech and language
Subjects:
R Medicine > RC Internal medicine > RC0321 Neuroscience. Biological psychiatry. Neuropsychiatry
R Medicine > RM Therapeutics. Pharmacology
Departments:
School of Health & Psychological Sciences > Language & Communication Science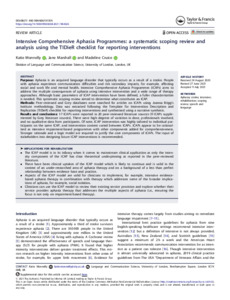 Preview
Text - Published Version
Available under License Creative Commons Attribution Non-commercial No Derivatives.
Download (2MB) | Preview
Export
Downloads
Downloads per month over past year
Altmetric

Altmetric
CORE (COnnecting REpositories)

CORE (COnnecting REpositories)
Actions (login required)

Actions (login required)