The 3D organisation of mitochondria in primate photoreceptors
Hayes, M. J., Tracey-White, D., Kam, J. H. , Powner, M. B.

ORCID: 0000-0003-4913-1004 & Jeffery, G. (2021). The 3D organisation of mitochondria in primate photoreceptors. Scientific Reports, 11(1), 18863. doi: 10.1038/s41598-021-98409-7
Abstract
Vertebrate photoreceptors contain large numbers of closely-packed mitochondria which sustain the high metabolic demands of these cells. These mitochondria populations are dynamic and undergo fusion and fission events. This activity serves to maintain the population in a healthy state. In the event of mitochondrial damage, sub-domains, or indeed whole mitochondria, can be degraded and population homeostasis achieved. If this process is overwhelmed cell death may result. Death of photoreceptors contributes to loss of vision in aging individuals and is associated with many eye diseases. In this study we used serial block face scanning electron microscopy of adult Macaca fascicularis retinae to examine the 3D structure of mitochondria in rod and cone photoreceptors. We show that healthy-looking photoreceptors contain mitochondria exhibiting a range of shapes which are associated with different regions of the cell. In some photoreceptors we observe mitochondrial swelling and other changes often associated with cellular stress. In rods and cones that appear stressed we identify elongated domains of mitochondria with densely-packed normal cristae associated with photoreceptor ciliary rootlet bundles. We observe mitochondrial fission and mitochondrion fragments localised to these domains. Swollen mitochondria with few intact cristae are located towards the periphery of the photoreceptor inner-segment in rods, whilst they are found throughout the cell in cones. Swollen mitochondria exhibit sites on the mitochondrial inner membrane which have undergone complex invagination resulting in membranous, electron-dense aggregates. Membrane contact occurs between the mitochondrion and the photoreceptor plasma membrane in the vicinity of these aggregates, and a series of subsequent membrane fusions results in expulsion of the mitochondrial aggregate from the photoreceptor. These events are primarily associated with rods. The potential fate of this purged material and consequences of its clearance by retinal pigment epithelia are discussed.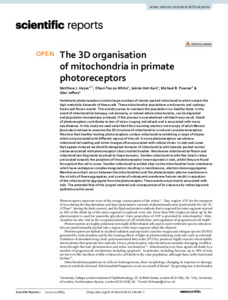 Preview
Text - Published Version
Available under License Creative Commons: Attribution International Public License 4.0.
Download (8MB) | Preview
Export
Downloads
Downloads per month over past year