Corporate financialization's conservation and transformation: from Mark I to Mark II
Auvray, T., Durand, C., Rabinovich, J. & Rikap, C.

ORCID: 0000-0003-4153-4490 (2021). Corporate financialization's conservation and transformation: from Mark I to Mark II. Review of Evolutionary Political Economy, 2, pp. 431-457. doi: 10.1007/s43253-021-00045-4
Abstract
This paper argues that, as far as the investment behavior of non-financial corporations is concerned, the apparent continuity over the last four decades suggested by the corporate financialization label is misleading. Indeed, while the disconnection between profitability and investment is a robust stylized fact for most of the period, with cumulative detrimental consequences for labor, we contend that the underlying mechanisms changed meaningfully at the turn of the millennium. This contribution identifies—empirically and theoretically—two distinct successive corporate financialization regimes (Mark I and Mark II) and explains their evolutionary articulation. Financialization Mark I is characterized by the empowerment of financial actors: in a context of high interest rates and full-blown liberalization, diminishing retained earnings by non-financial corporations resulted in a dramatic slowdown of investment. Contrastingly, Financialization Mark II is characterized by a strongly established financial hegemony with new forms of intellectual and financial monopoly. In this configuration, interest rates are low and global value chains are deeply seated. This fuels rampant deflationary pressure, which changes the overall dynamic of the profit-investment nexus. Then, in Financialization Mark II, contrary to what occurred during Financialization Mark I, distributed profits are the consequence of slow investment.
Publication Type:
Article
Additional Information:
This article is licensed under a Creative Commons Attribution 4.0 International License, which permits use, sharing, adaptation, distribution and reproduction in any medium or format, as long as you give appropriate credit to the original author(s) and the source, provide a link to the Creative Commons licence, and indicate if changes were made. The images or other third party material in this article are included in the article's Creative Commons licence, unless indicated otherwise in a credit line to the material. If material is not included in the article's Creative Commons licence and your intended use is not permitted by statutory regulation or exceeds the permitted use, you will need to obtain permission directly from the copyright holder. To view a copy of this licence, visit http://creativecommons.org/licenses/by/4.0/.
Publisher Keywords:
Financialization regimes, Investment-profit nexus, Payout, Globalization: Intellectual monopoly, Asset managers
Subjects:
H Social Sciences > HB Economic Theory
H Social Sciences > HG Finance
Departments:
School of Policy & Global Affairs > International Politics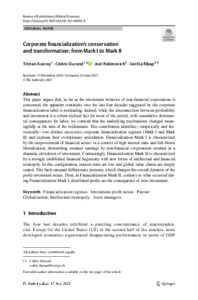 Preview
Text - Published Version
Available under License Creative Commons: Attribution International Public License 4.0.
Download (906kB) | Preview
Export
Downloads
Downloads per month over past year
Altmetric

Altmetric
CORE (COnnecting REpositories)

CORE (COnnecting REpositories)
Actions (login required)

Actions (login required)