Barriers and enablers to diabetic eye screening attendance: an interview study with young adults with type 1 diabetes
Prothero, L.

ORCID: 0000-0002-5385-0397, Lawrenson, J. G.

ORCID: 0000-0002-2031-6390, Cartwright, M.

ORCID: 0000-0002-3404-5659 , Crosby-Nwaobi, R., Burr, J. M., Gardner, P., Anderson, J., Presseau, J., Ivers, N., Grimshaw, J. M., Lorencatto, F. & EROS Study Investigators (2022). Barriers and enablers to diabetic eye screening attendance: an interview study with young adults with type 1 diabetes. Diabetic Medicine, 39(3), e14751. doi: 10.1111/dme.14751
Abstract
AIM: To identify barriers and enablers of diabetic eye screening (DES) attendance amongst young adults with diabetes living in the UK.
METHODS: Semi-structured qualitative interviews with adults aged 18-34 years with diabetes. Participants were purposively sampled to aim for representation across gender, geographical locations, diabetes type, years since diabetes diagnosis and patterns of attendance (i.e. regular attenders, occasional non-attenders, regular non-attenders). Data were collected and analysed using the Theoretical Domains Framework (TDF) to explore potential individual, socio-cultural and environmental influences on attendance. Data were analysed using a combined deductive and inductive thematic analysis approach. Barriers/enablers were mapped to behaviour change techniques (BCTs) to identify potential strategies to increase attendance.
RESULTS: Key barriers to attendance reported by the sample of 29 study participants with type 1 diabetes, fell within the TDF domains: [1] (e.g. not understanding reasons for attending DES or treatments available if diabetic retinopathy is detected), [Social Influences] (e.g. lack of support following DES results), [Social role and Identity] (e.g. not knowing other people their age with diabetes, feeling 'isolated' and being reluctant to disclose their diabetes) and [Environmental Context and Resources] (e.g. lack of appointment flexibility and options for rescheduling). Enablers included: [Social Influences] (e.g. support of family/diabetes team), [Goals] (e.g. DES regarded as 'high priority'). Many of the reported barriers/enablers were consistent across groups. Potential BCTs to support attendance include: Instructions on how to perform the behaviour; Information about health consequences; Social support (practical) and Social comparison.
CONCLUSIONS: Attendance to diabetic eye screening in young adults is influenced by a complex set of interacting factors. Identification of potentially modifiable target behaviours provides a basis for designing more effective, tailored interventions to help young adults regularly attend eye screening and prevent avoidable vision loss.
Publication Type:
Article
Additional Information:
This is the pre-peer reviewed version of the following article: Prothero, L. , Lawrenson, J. G. , Cartwright, M. , Crosby-Nwaobi, R., Burr, J. M., Gardner, P., Anderson, J., Presseau, J., Ivers, N., Grimshaw, J. M., Lorencatto, F. and EROS Study Investigators, (2021). Barriers and enablers to diabetic eye screening attendance: an interview study with young adults with type 1 diabetes. Diabetic Medicine, e14751, which has been published in final form at https://doi.org/10.1111/dme.14751. This article may be used for non-commercial purposes in accordance with Wiley Terms and Conditions for Use of Self-Archived Versions.
Publisher Keywords:
barriers and enablers, behaviour change, diabetic eye screening, qualitative research
Subjects:
H Social Sciences > HM Sociology
R Medicine > RA Public aspects of medicine > RA0421 Public health. Hygiene. Preventive Medicine
R Medicine > RE Ophthalmology
Departments:
School of Health & Psychological Sciences > Healthcare Services Research & Management
School of Health & Psychological Sciences > Optometry & Visual Sciences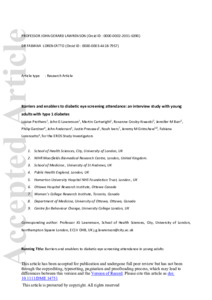 Preview
Text - Accepted Version


Download (14MB) | Preview
Export
Downloads
Downloads per month over past year
Altmetric

Altmetric
CORE (COnnecting REpositories)

CORE (COnnecting REpositories)
Actions (login required)

Actions (login required)