The influence of news coverage on humanitarian aid: The bureaucrats' perspective
Scott, M., Bunce, M.

ORCID: 0000-0002-4924-8993 & Wright, K. (2021). The influence of news coverage on humanitarian aid: The bureaucrats' perspective. Journalism Studies, 23(2), pp. 167-186. doi: 10.1080/1461670X.2021.2013129
Abstract
We examine if and how news coverage influences governments' humanitarian aid allocations, from the perspective of the senior bureaucrats involved in such decision-making. Using rare in-depth interviews with 30 directors and senior policymakers in 16 of the world's largest donor countries, we found that the majority of these bureaucrats believed that sudden-onset, national news coverage can increase levels of emergency humanitarian aid allocated to a crisis. They said that this influence operated by triggering other accountability institutions (the public, civil society, elected officials) who put pressure on aid bureaucracies to announce additional funding. However, these practitioners claim that annual humanitarian aid allocations—which are much larger—are unaffected by news pressure. Intriguingly, we also find that many respondents interpret a lack of news coverage as grounds for increasing their annual aid allocations to what they call "forgotten crises". We argue that "bureaucratic mediatisation", rather than the "CNN Effect" or the "Cockroach Effect", provides the most appropriate theoretical perspective to understand these multiple, concurrent and indirect forms of media influence. These findings have important implications for government donors, news organisations and aid agencies, and for our wider understanding of how news coverage may influence foreign policy.
Publication Type:
Article
Additional Information:
© 2021 The Author(s). Published by Informa UK Limited, trading as Taylor & Francis Group This is an Open Access article distributed under the terms of the Creative Commons Attribution License (http://creativecommons.org/licenses/by/4.0/), which permits unrestricted use, distribution, and reproduction in any medium, provided the original work is properly cited.
Publisher Keywords:
Foreign policy, humanitarian aid, mediatisation, bureaucracies, the CNN Effect, forgotten crises
Subjects:
H Social Sciences > H Social Sciences (General)
J Political Science > JF Political institutions (General)
Departments:
School of Communication & Creativity > Journalism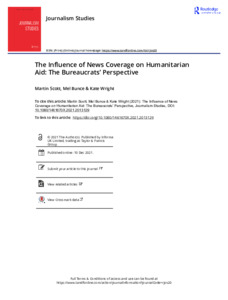 Preview
Text - Published Version
Available under License Creative Commons Attribution.
Download (2MB) | Preview
Export
Downloads
Downloads per month over past year