Financial eschatology and the libidinal economy of leverage
Samman, A.

ORCID: 0000-0003-4721-4877 & Sgambati, S.

ORCID: 0000-0001-7324-0724 (2022). Financial eschatology and the libidinal economy of leverage. Theory, Culture & Society, doi: 10.1177/02632764211070805
Abstract
Apocalyptic thinking has a long religious and political tradition, but what place does it occupy within the temporal universe of contemporary capitalism? In this essay, we use the figure of the eschaton to draw out the loaded and ambiguous character of the future as it emerges through the condition of indebtedness. This entails a departure from political economy accounts of capitalist futurity, which stress the structural logic of financial speculation, in favour of an existential account that begins instead with the cosmology of money and debt. We argue that finance capital's fixation on the future has produced a very specific form of apocalyptic imagination, characteristic of financial society and built on a libidinal economy of leverage. Rather than offering an ecstatic end to the global process of financialization, financial eschatologies bind the contemporary subject to debt and indebtedness to the very end: an endless apocalypse, premised on the ends of finance itself.
Publication Type:
Article
Additional Information:
This article is distributed under the terms of the Creative Commons Attribution-NonCommercial 4.0 License (https://creativecommons.org/licenses/by-nc/4.0/) which permits non-commercial use, reproduction and distribution of the work without further permission provided the original work is attributed as specified on the SAGE and Open Access page (https://us.sagepub.com/en-us/nam/open-access-at-sage).
Publisher Keywords:
Debt, eschatology, finance, futurity, money, leverage, libidinal economy
Subjects:
H Social Sciences > HB Economic Theory
H Social Sciences > HG Finance
Departments:
School of Policy & Global Affairs > International Politics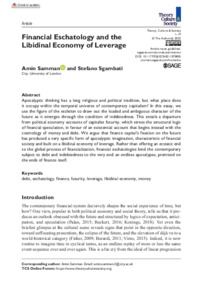 Preview
Text - Published Version
Available under License Creative Commons Attribution Non-commercial.
Download (138kB) | Preview
Export
Downloads
Downloads per month over past year
Altmetric

Altmetric
CORE (COnnecting REpositories)

CORE (COnnecting REpositories)
Actions (login required)

Actions (login required)