A study of case finding for chronic open angle glaucoma by UK community optometrists
Myint, Joy (2013). A study of case finding for chronic open angle glaucoma by UK community optometrists. (Unpublished Doctoral thesis, City University London)
Abstract
In 2009 approximately 480,000 people were affected by COAG in England. Furthermore, glaucoma sufferers and suspects are responsible for over one million glaucoma-related outpatient visits annually. Community optometrists make over 95% of suspect COAG referrals, identifying suspects through opportunistic case-finding. Optometrists' case-finding is largely based on a triad of tests: optic nerve head assessment, tonometry, and visual fields. There has been little research into optometrists' COAG case-finding strategies.
Chapter 2 reports on a national survey regarding COAG case-finding methodologies and referral criteria. Survey response validity was confirmed by comparing these with a national sample of referral letters. UK optometrists are well-equipped to detect COAG. Optometrist's skills and scope of practice in the detection of glaucoma have evolved since the last national survey in the late 1980's. The level of funding and nature of the GOS contract in England limits development of effective services for glaucoma detection. For comparison, the survey was also performed in the Netherlands. Dutch optometrists own fewer automated field screeners but more goniolenses and pachymeters, and are more likely to use binocular indirect ophthalmoscopy than UK optometrists.
Chapter 3 describes the development of a competency framework for optometrists with a specialist interest in glaucoma utilising Delphi methodology. The Delphi technique is a robust method for gaining autonomous expert opinion. This approach has led to the development of an accepted national competency framework for optometrists with a special interest in glaucoma.
Chapter 4 evaluated the impact of a postgraduate educational intervention on aspects of glaucoma detection. The intervention increased awareness of disc changes in glaucoma, but was less effective for clinical decision- aking and for improving performance in the Discus program for disc assessment. The traditional didactic teaching style is unsuited for training optometrists in the clinical competencies required for glaucoma detection and management.
Chapter 5 is a unifying summary of preceding chapters and contains recommendations for future research.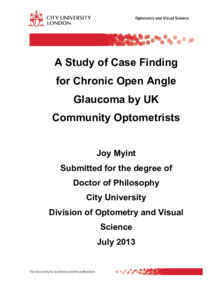 Preview
PDF


Download (19MB) | Preview
Export
Downloads
Downloads per month over past year
Altmetric

Altmetric
CORE (COnnecting REpositories)

CORE (COnnecting REpositories)
Actions (login required)

Actions (login required)