What makes effective advocacy? An exploration of public health nutrition advocacy in England
Brinsden, H. (2020). What makes effective advocacy? An exploration of public health nutrition advocacy in England. (Submitted Doctoral thesis, City, University of London)
Abstract
Background: This research explores aspects of the widely discussed gap between the state of public health nutrition in England and the appropriateness of government and commercial responses. Specifically, it explores the role of NGO advocacy in altering and improving this situation. Recognising that NGOs conduct their advocacy to protect the public good and shape public health nutrition policy, this research analyses the role and effectiveness of NGO advocacy in shifting and shaping the dynamics of food and nutrition policy, and how it can be measured. Drawing on interdisciplinary political theories and existing models of advocacy, the research applies an academic lens to some of the practical challenges and issues faced by NGO advocates.
Aim: The aim of this research was to understand the role and effectiveness of NGO advocacy in public health nutrition, a previously under-researched area. The research focuses on England, a country with an active NGO presence, and explored the different types of advocacy and the different ways in which advocacy success is, and could be, measured. The research has relevance for the academic literature, for our understanding of advocacy effectiveness in public health nutrition and, not least, for improving the way NGOs engage with policy and change.
Research questions: Three research questions were posed:
1. What conditions support or hinder NGO advocacy in public health nutrition?
2. What advocacy tactics are adopted by NGOs working in public health nutrition?
3. How can the effectiveness of public health nutrition advocacy be measured?
Methods: Qualitative research methods were used, primarily drawing on the experiences in England from three implemented public health nutrition policies (FOP labelling, marketing restrictions and salt reduction) and four NGOs working on public health nutrition. A combination of methods, including semi-structured interviews (N=29) and document analysis of grey literature from campaigning groups and government agencies, were used to answer each research question to aid triangulation and validation of the findings.
Main findings: Advocacy was found to be a complex mix of positions and strategies, with no single model utilised by NGOs. There is a range of 'advocacies' which mean different things, at different times, in different contexts and to different people. Advocacy was found to be intrinsically linked to external conditions, and these conditions often dictate the most appropriate approach and likelihood of success. The research demonstrated different ways in which advocacy can react to, shape and navigate these conditions as part of efforts to achieve change. As a result of the conditions, advocacy was found to be rarely straightforward or predictable, adding a layer of complexity for measuring advocacy. A number of short- and long-term indicators for measuring advocacy were identified and, drawing on the overall findings, it is suggested that in order to get the most value from an advocacy monitoring framework, advocacy should always be contextualised within the wider conditions, and a range of different indicators should be used to reflect these different conditions. The thesis ends by reflecting on the practical implications of the research and proposing a practical framework for monitoring advocacy.
Implications: The results of this research provide insights into public health nutrition advocacy and the complexity and dynamics within which it operates. The vital role of the conditions highlights the need to contextualise any assessment of advocacy and thus utilise measures across a range of domains. Progress was found to result from both abrupt and incremental change and as such advocacy which is fluid and dynamic will be necessary in order to react, shape and navigate different conditions. While needing further refinement and research, the monitoring framework presented in this thesis is valuable as a means to identify appropriate advocacy tactics and measures, while being underpinned by the conditions at play. The measuring challenge for advocacy remains, but the proposed framework developed can aid future monitoring and refinement of advocacy and thus help improve the ability of NGOs to support improvements to public health nutrition.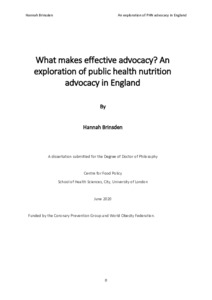 Preview
Text - Accepted Version


Download (2MB) | Preview
Export
Downloads
Downloads per month over past year
Altmetric

Altmetric
CORE (COnnecting REpositories)

CORE (COnnecting REpositories)
Actions (login required)

Actions (login required)