Patient-Facing Mobile Apps to Support Physiotherapy Care: Protocol for a Systematic Review of Apps Within App Stores
Merolli, M., Francis, J. J.

ORCID: 0000-0001-5784-8895, Vallance, P. , Bennell, K. L., Malliaras, P. & Hinman, R. S. (2021). Patient-Facing Mobile Apps to Support Physiotherapy Care: Protocol for a Systematic Review of Apps Within App Stores. JMIR Research Protocols, 10(12), e29047. doi: 10.2196/29047
Abstract
BACKGROUND: Care delivered by physiotherapists aims to facilitate engagement in positive health behaviors by patients (eg, adherence to exercise). However, research suggests that behavioral interventions are frequently omitted from care. Hence, better understanding of strategies that can be used by physiotherapists to support patients to engage in positive behaviors is important and likely to optimize outcomes. Digital health interventions delivered via mobile apps are garnering attention for their ability to support behavior change. They have potential to incorporate numerous behavior change techniques (BCTs) to support goals of physiotherapy care, including but not limited to self-monitoring, goal setting, and prompts/alerts. Despite their potential to support physiotherapy care, much is still unknown about what apps are available to consumers, the BCTs they use, their quality, and their potential to change behaviors.
OBJECTIVE: The primary aim of this study is to systematically review the mobile apps available in app stores that are intended for use by patients to support physiotherapy care, including the BCTs within these apps. The secondary aims are to evaluate the quality and behavior change potential of these apps.
METHODS: A systematic review of mobile apps in app stores will be undertaken. This will be guided by recommendations for systematic reviews in line with the PRISMA (Preferred Reporting Items for Systematic Reviews and Meta-Analyses) statement but adapted to suit our app store search, consistent with similar systematic reviews of apps published in the Journal of Medical Internet Research. Apple Store and Google Play will be searched with a two-step search strategy, using terms relevant to physiotherapy, physiotherapists, and common physiotherapy care. Key eligibility criteria will include apps that are intended for use by patients and are self-contained or stand-alone without the need of additional wearable devices or other add-ons. Included apps will be coded for BCTs and rated for quality using the Mobile Application Rating Scale (MARS) and for potential to change behavior using the App Behavior Change Scale (ABACUS).
RESULTS: App store search and screening are expected to be completed in 2021. Data extraction and quality appraisal are expected to commence by November 2021. The study results are expected to be published in a subsequent paper in 2022.
CONCLUSIONS: Knowledge gained from this review will support clinical practice and inform research by providing a greater understanding of the quality of currently available mobile apps and their potential to support patient behavior change goals of physiotherapy care.
INTERNATIONAL REGISTERED REPORT IDENTIFIER (IRRID): PRR1-10.2196/29047.
Publication Type:
Article
Additional Information:
©Mark Merolli, Jill J Francis, Patrick Vallance, Kim L Bennell, Peter Malliaras, Rana S Hinman. Originally published in JMIR Research Protocols (https://www.researchprotocols.org), 09.12.2021. This is an open-access article distributed under the terms of the Creative Commons Attribution License (https://creativecommons.org/licenses/by/4.0/), which permits unrestricted use, distribution, and reproduction in any medium, provided the original work, first published in JMIR Research Protocols, is properly cited. The complete bibliographic information, a link to the original publication on https://www.researchprotocols.org, as well as this copyright and license information must be included.
Publisher Keywords:
physiotherapy; physical therapy; digital health intervention; mobile app; eHealth; behavior change technique; behavior change; exercise; digital health; mHealth
Subjects:
H Social Sciences > HM Sociology
Q Science > QA Mathematics > QA75 Electronic computers. Computer science
R Medicine > RA Public aspects of medicine
R Medicine > RC Internal medicine
Departments:
School of Health & Psychological Sciences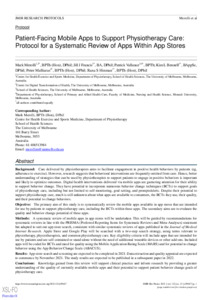 Preview
Text - Published Version
Available under License Creative Commons: Attribution International Public License 4.0.
Download (743kB) | Preview
Export
Downloads
Downloads per month over past year
Altmetric

Altmetric
CORE (COnnecting REpositories)

CORE (COnnecting REpositories)
Actions (login required)

Actions (login required)