Longer-term pensioner poverty and poverty transitions
Barnes, M.

ORCID: 0000-0002-0702-5222 (2022). Longer-term pensioner poverty and poverty transitions. London: City, University of London.
Abstract
Pensioner poverty is on the rise. While poverty in the overall population has remained relatively stable since 2012, pensioner poverty has increased by five percentage points and the latest estimates report that 18% of pensioners live in poverty (DWP, 2021a). Older people in poverty find it difficult to get by financially (Age UK, 2019) and there is a large volume of evidence on how living in poverty can be detrimental for older people and society more generally (Bramley et al, 2016) –something made even more challenging by the current pandemic (Age UK, 2020). Much less is known about how the experience of poverty changes in older age. This new research seeks to explore how many pensioners enter poverty and how many escape poverty, and what the key drivers of poverty transitions are. It also looks at pensioners who do not escape poverty, and hence face a longer-term poverty experience. It uses data from a large-scale population survey that tracks individuals over time – the Understanding Society survey (USoc).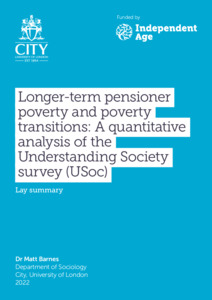 Preview
Text - Published Version


Download (390kB) | Preview
Export
Downloads
Downloads per month over past year