Self-enhanced False Memory across the Life Span
Wang, J., Otgaar, H., Howe, M. L.

ORCID: 0000-0002-5747-5571 , Dong, Q. & Zhou, C. (2022). Self-enhanced False Memory across the Life Span. The Journals of Gerontology Series B, 77(9), pp. 1645-1653. doi: 10.1093/geronb/gbac020
Abstract
Objectives: The role of self in veridical memory has been extensively studied, but what is the role of self in false memory development across the life span? The current study examined the impact of self-reference on associative false memory in children, younger adults, and older adults, and further investigated possible mechanisms concerning how self-reference might impact false memory in different age groups. Method: Combining a self-reference manipulation with the Deese/RoedigerMcDermott (DRM) paradigm, children, younger adults and older adults encoded DRM word lists as paired with their own name, another person's name, or a red square. Later their true and false recognition memory as well as recollection and familiarity were measured.
Results: A self-enhanced false memory effect was found in all age groups. That is, participants generated more false memories in the self-reference condition relative to the other-reference and neutral conditions. Furthermore, when examining its underlying memory mechanisms, we found that self-reference mainly increased false recollection in younger adults but facilitated familiarity of critical lures in older adults.
Discussion: Although self-reference increases false memory in both younger and older adults, the underlying mechanisms are different in that older adults have more self-relevant false familiarity while younger adults generate more self-relevant phantom recollection. The current study also has implications for eyewitness reports, suggesting that the self-relevance of memory may be one relevant factor to consider when evaluating potential risk factors of false memory.
Publication Type:
Article
Additional Information:
This is a pre-copyedited, author-produced version of an article accepted for publication in Journals of Gerontology, Series B: Psychological Sciences and Social Sciences following peer review. The version of recordJianqin Wang, PhD, Henry Otgaar, PhD, , Mark L Howe, PhD, Qun Dong, MS, Chu Zhou, PhD, Self-enhanced False Memory across the Life Span, The Journals of Gerontology: Series B, 2022, is available online at: https://doi.org/10.1093/geronb/gbac020
Publisher Keywords:
Self-reference, False Memory, Development, Recollection, Familiarity
Subjects:
B Philosophy. Psychology. Religion > BF Psychology
R Medicine > RC Internal medicine > RC0321 Neuroscience. Biological psychiatry. Neuropsychiatry
Departments:
School of Health & Psychological Sciences > Psychology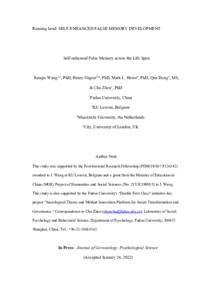 Preview
Text - Accepted Version


Download (967kB) | Preview
Export
Downloads
Downloads per month over past year
Altmetric

Altmetric
CORE (COnnecting REpositories)

CORE (COnnecting REpositories)
Actions (login required)

Actions (login required)