Provider and lay perspectives on intra-uterine contraception: a global review
Daniele, M.

ORCID: 0000-0002-5666-9489, Cleland, J., Benova, L. & Ali, M. (2017). Provider and lay perspectives on intra-uterine contraception: a global review. Reproductive Health, 14(1), 119. doi: 10.1186/s12978-017-0380-8
Abstract
BACKGROUND: Intra-uterine contraception (IUC) involves the use of an intra-uterine device (IUD), a highly effective, long-acting, reversible contraceptive method. Historically, the popularity of IUC has waxed and waned across different world regions, due to policy choices and shifts in public opinion. However, despite its advantages and cost-effectiveness for programmes, IUC's contribution to contraceptive prevalence is currently negligible in many countries. This paper presents the results of a systematic review of the global literature on provider and lay perspectives on IUC. It aims to shed light on the reasons for low use of IUC and reflect on potential opportunities for the method's promotion.
METHODS: A systematic search of the literature was conducted in four peer-reviewed journals and four electronic databases (MEDLINE, EMBASE, POPLINE, and Global Health). Screening resulted in the inclusion of 68 relevant publications.
RESULTS: Most included studies were conducted in areas where IUD use is moderate or low. Findings are similar across these areas. Many providers have low or uneven levels of knowledge on IUC and limited training. Many wrongly believe that IUC entails serious side effects such as pelvic inflammatory disease (PID), and are reluctant to provide it to entire eligible categories, such as HIV-positive women. There is particular resistance to providing IUC to teenagers and nulliparae. Provider opinions may be more favourable towards the hormonal IUD. Some health-care providers choose IUC for themselves. Many members of the public have low knowledge and unfounded misconceptions about IUC, such as the fear of infertility. Some are concerned about the insertion and removal processes, and about its effect on menses. However, users of IUC are generally satisfied and report a number of benefits. Peers and providers exert a strong influence on women's attitudes.
CONCLUSION: Both providers and lay people have inaccurate knowledge and misconceptions about IUC, which contribute to explaining its low use. However, many reported concerns and fears could be alleviated through correct information. Concerted efforts to train providers, combined with demand creation initiatives, could therefore boost the method's popularity. Further research is needed on provider and lay perspectives on IUDs in low- and middle-income countries.
| | |
| --- | --- |
| Publication Type: | Article |
| Additional Information: | © The Author(s). 2017 Open Access This article is distributed under the terms of the Creative Commons Attribution 4.0 International License (http://creativecommons.org/licenses/by/4.0/), which permits unrestricted use, distribution, and reproduction in any medium, provided you give appropriate credit to the original author(s) and the source, provide a link to the Creative Commons license, and indicate if changes were made. |
| Publisher Keywords: | Intra-uterine contraception (IUC), Intra-uterine device (IUD), Health-care providers, Users, Lay perspectives |
| Subjects: | R Medicine > RG Gynecology and obstetrics |
| Departments: | School of Health & Psychological Sciences > Midwifery & Radiography |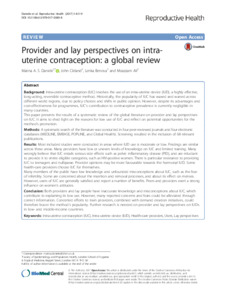 Preview
Text - Published Version
Available under License Creative Commons: Attribution International Public License 4.0.
Download (528kB) | Preview
Export
Downloads
Downloads per month over past year
Altmetric

Altmetric
CORE (COnnecting REpositories)

CORE (COnnecting REpositories)
Actions (login required)

Actions (login required)