Water Is a Viable Data Storage Medium: A Security and Privacy Viewpoint
Tahir, S., Tahir, H., Tahir, R. , Rajarajan, M.

ORCID: 0000-0001-5814-9922 & Abbas, H. (2022). Water Is a Viable Data Storage Medium: A Security and Privacy Viewpoint. Electronics, 11(5), 818. doi: 10.3390/electronics11050818
Abstract
The security of IoT devices is a major concern that needs to be addressed for their wide adoption. Users are constantly seeking devices that are faster and capable of holding large amounts of data securely. It is purported that water has memory of its own and the ability to retain memory of the substances that are dissolved into it, even after being substantially and serially diluted. It was also observed in the lab setting that the microscopic pattern of water obtained from the same vessel by different people is unique but can easily distinguish those individuals if the same experiment is executed repeatedly. Furthermore, extensive research is already underway that explores the storage of data on water and liquids. This leads to the requirement of taking the security and privacy concerns related to the storage of data on water into consideration, especially when the real-time collection of data related to water through the IoT devices is of interest. Otherwise, the water memory aspect may lead to leakage of the data and, consequently, the data owners identity. Therefore, this article for the first time highlights the security and privacy implications related to water memory and discusses the possible countermeasures to effectively handle these potential threats. This article also presents a framework to securely store sensitive data on water. The proof-of-concept prototype is implemented and tested over a real-world dataset to analyze the feasibility of the proposed framework. The performance analysis yields that the proposed framework can be deployed once data storage on water is widely used.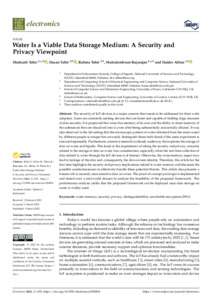 Preview
Text - Published Version
Available under License Creative Commons: Attribution International Public License 4.0.
Download (1MB) | Preview
Export
Downloads
Downloads per month over past year
Altmetric

Altmetric
CORE (COnnecting REpositories)

CORE (COnnecting REpositories)
Actions (login required)

Actions (login required)