An exploratory study on support for caregivers of people with vision impairment in the UK
Enoch, J.

ORCID: 0000-0002-4614-6676, Dickinson, C., Potts, J. & Subramanian, A.

ORCID: 0000-0001-8104-5312 (2022). An exploratory study on support for caregivers of people with vision impairment in the UK. Ophthalmic and Physiological Optics, 42(4), pp. 858-871. doi: 10.1111/opo.12989
Abstract
PURPOSE: Many of the UK's 2.5 million individuals living with vision loss receive support from relatives or friends (so-called 'informal caregivers'). However, there is limited understanding of how caregivers of people with visual impairment (PVI) are, or feel, supported by UK healthcare/statutory services and charities. This exploratory study was conducted to explore caregivers' experiences and their suggestions for enhancing support.
METHODS: Participants self-identifying as UK-based caregivers of PVI (N = 100) volunteered to undertake an online survey, distributed through charity partners. The survey was comprised of the Client Satisfaction Questionnaire-8 (CSQ-8, a validated, self-report measure of satisfaction with support services), Likert-type questions and two open-ended, free-text questions. Interview participants (N = 22) were then selected from survey respondents, and semi-structured interviews were conducted to focus on caregivers' ideas for improving support. The Framework Method was used for inductive analysis of the free-text question responses and interview data.
RESULTS: The mean (SD) CSQ-8 score was 21.60 (7.2), with no significant differences by demographic, relationship or vision-related factors, likely limited by the small subgroup sizes. Qualitative data demonstrated the heterogeneity of participating caregivers' experiences, highlighting the importance of personalised support for caregivers. Many participants advocated enhancing informational, practical, emotional and social support for caregivers, and stressed the importance of accessible services and consistent points of contact to turn to for support and advice.
CONCLUSIONS: Although our sample was arguably better connected to support services than the general caregiver population, this study identified concrete suggestions to improve practical, emotional and peer support for caregivers of PVI.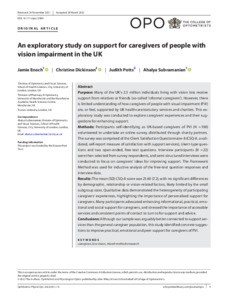 Preview
Text - Published Version
Available under License Creative Commons Attribution.
Download (2MB) | Preview
Export
Downloads
Downloads per month over past year