Sodium and Health: Old Myths and a Controversy Based on Denial
Cappuccio, F. P., Campbell, N. C., He, F. , Jacobson, M., MacGregor, G. A., Antman, E., Appel, L. J., Arcand, J., Blanco-Metzler, A., Cook, N., Guichon, J., L'Abbe, M., Lackland, D., Lang, T.

ORCID: 0000-0002-1184-8344, McLean, R., Miglinas, M., Mitchell, I., Sacks, F. M., Sever, P. S., Stampfer, M., Strazzullo, P., Sunman, W., Webster, J., Whelton, P. K. & Willett, W. (2022). Sodium and Health: Old Myths and a Controversy Based on Denial. Current Nutrition Reports, 11, pp. 172-184. doi: 10.1007/s13668-021-00383-z
Abstract
Purpose of Review
The scientific consensus on which global health organizations base public health policies is that high sodium intake increases blood pressure (BP) in a linear fashion contributing to cardiovascular disease (CVD). A moderate reduction in sodium intake to 2000 mg per day helps ensure that BP remains at a healthy level to reduce the burden of CVD.
Recent Findings
Yet, since as long ago as 1988, and more recently in eight articles published in the European Heart Journal in 2020 and 2021, some researchers have propagated a myth that reducing sodium does not consistently reduce CVD but rather that lower sodium might increase the risk of CVD. These claims are not well-founded and support some food and beverage industry's vested interests in the use of excessive amounts of salt to preserve food, enhance taste, and increase thirst. Nevertheless, some researchers, often with funding from the food industry, continue to publish such claims without addressing the numerous objections. This article analyzes the eight articles as a case study, summarizes misleading claims, their objections, and it offers possible reasons for such claims.
Summary
Our study calls upon journal editors to ensure that unfounded claims about sodium intake be rigorously challenged by independent reviewers before publication; to avoid editorial writers who have been co-authors with the subject paper's authors; to require statements of conflict of interest; and to ensure that their pages are used only by those who seek to advance knowledge by engaging in the scientific method and its collegial pursuit. The public interest in the prevention and treatment of disease requires no less.
Publication Type:
Article
Additional Information:
This article is licensed under a Creative Commons Attribution 4.0 International License, which permits use, sharing, adaptation, distribution and reproduction in any medium or format, as long as you give appropriate credit to the original author(s) and the source, provide a link to the Creative Commons licence, and indicate if changes were made. The images or other third party material in this article are included in the article's Creative Commons licence, unless indicated otherwise in a credit line to the material. If material is not included in the article's Creative Commons licence and your intended use is not permitted by statutory regulation or exceeds the permitted use, you will need to obtain permission directly from the copyright holder. To view a copy of this licence, http://creativecommons.org/licenses/by/4.0/.
Publisher Keywords:
Sodium (salt) intake, Population sodium reduction, Cardiovascular prevention, Public health policy, Ethics, Confict of interest
Subjects:
H Social Sciences > HM Sociology
R Medicine > RA Public aspects of medicine > RA0421 Public health. Hygiene. Preventive Medicine
Departments:
School of Health & Psychological Sciences > Healthcare Services Research & Management > Food Policy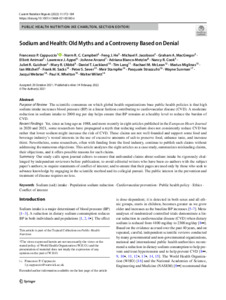 Preview
Text - Published Version
Available under License Creative Commons: Attribution International Public License 4.0.
Download (996kB) | Preview
Export
Downloads
Downloads per month over past year
Altmetric

Altmetric
CORE (COnnecting REpositories)

CORE (COnnecting REpositories)
Actions (login required)

Actions (login required)