Project20: interpreter services for pregnant women with social risk factors in England: what works, for whom, in what circumstances, and how?
Rayment-Jones, H., Harris, J., Harden, A.

ORCID: 0000-0002-8621-5066 , Silverio, S. A., Turienzo, C. F. & Sandall, J. (2021). Project20: interpreter services for pregnant women with social risk factors in England: what works, for whom, in what circumstances, and how?. International Journal for Equity in Health, 20(1), 233. doi: 10.1186/s12939-021-01570-8
Abstract
Background
Black and minority ethnic women and those with social risk factors such as deprivation, refugee and asylum seeker status, homelessness, mental health issues and domestic violence are at a disproportionate risk of poor birth outcomes. Language barriers further exacerbate this risk, with women struggling to access, engage with maternity services and communicate concerns to healthcare professionals. To address the language barrier, many UK maternity services offer telephone interpreter services. This study explores whether or not women with social risk factors find these interpreter services acceptable, accessible and safe, and to suggest solutions to address challenges.
Methods
Realist methodology was used to refine previously constructed programme theories about how women with language barriers access and experience interpreter services during their maternity care. Twenty-one longitudinal interviews were undertaken during pregnancy and the postnatal period with eight non-English speaking women and their family members. Interviews were analysed using thematic framework analysis to confirm, refute or refine the programme theories and identify specific contexts, mechanisms and outcomes relating to interpreter services.
Results
Women with language barriers described difficulties accessing maternity services, a lack of choice of interpreter, suspicion around the level of confidentiality interpreter services provide, and questioned how well professional interpreters were able to interpret what they were trying to relay to the healthcare professional during appointments. This resulted in many women preferring to use a known and trusted family member or friend to interpret for them where possible. Their insights provide detailed insight into how poor-quality interpreter services impact on their ability to disclose risk factors and communicate concerns effectively with their healthcare providers. A refined programme theory puts forward mechanisms to improve their experiences and safety such as regulated, high-quality interpreter services throughout their maternity care, in which women have choice, trust and confidence.
Conclusions
The findings of this study contribute to concerns highlighted in previous literature around interpreter services in the wider healthcare arena, particularly around the lack of regulation and access to high-quality interpretation. This is thought to have a significant effect on pregnant women who are living socially complex lives as they are not able to communicate their concerns and access support. This not only impacts on their safety and pregnancy outcomes, but also their wider holistic needs. The refined program theory developed in this study offers insights into the mechanisms of equitable access to appropriate interpreter services for pregnant women with language barriers.
Publication Type:
Article
Additional Information:
© The Author(s) 2021. Open Access This article is licensed under a Creative Commons Attribution 4.0 International License, which permits use, sharing, adaptation, distribution and reproduction in any medium or format, as long as you give appropriate credit to the original author(s) and the source, provide a link to the Creative Commons licence, and indicate if changes were made. The images or other third party material in this article are included in the article's Creative Commons licence, unless indicated otherwise in a credit line to the material. If material is not included in the article's Creative Commons licence and your intended use is not permitted by statutory regulation or exceeds the permitted use, you will need to obtain permission directly from the copyright holder. To view a copy of this licence, visit http://creativecommons.org/licences/by/4.0/.
Publisher Keywords:
Maternity services, Interpretation, Translation, Non-English speaking, Language barriers
Subjects:
H Social Sciences > HM Sociology
R Medicine > RG Gynecology and obstetrics
Departments:
School of Health & Psychological Sciences > Healthcare Services Research & Management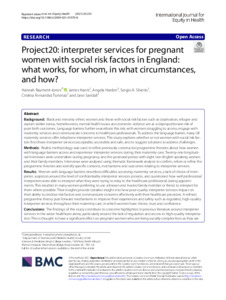 Preview
Text - Published Version
Available under License Creative Commons: Attribution International Public License 4.0.
Download (1MB) | Preview
Export
Downloads
Downloads per month over past year
Altmetric

Altmetric
CORE (COnnecting REpositories)

CORE (COnnecting REpositories)
Actions (login required)

Actions (login required)