A qualitative study of experiences of NHS mental healthcare workers during the Covid-19 pandemic
Liberati, E., Richards, N., Willars, J. , Scott, D., Boydell, N., Parker, J.

ORCID: 0000-0001-5179-729X, Pinfold, V., Martin, G., Dixon-Woods, M. & Jones, P. B. (2021). A qualitative study of experiences of NHS mental healthcare workers during the Covid-19 pandemic. BMC Psychiatry, 21, 250. doi: 10.1186/s12888-021-03261-8
Abstract
Background
The Covid-19 pandemic has imposed extraordinary strains on healthcare workers. But, in contrast with acute settings, relatively little attention has been given to those who work in mental health settings. We aimed to characterise the experiences of those working in English NHS secondary mental health services during the first wave of the pandemic.
Methods
The design was a qualitative interview-based study. We conducted semi-structured, remote (telephone or online) interviews with 35 members of staff from NHS secondary (inpatient and community) mental health services in England. Analysis was based on the constant comparative method.
Results
Participants reported wide-ranging changes in the organisation of secondary mental health care and the nature of work in response to the pandemic, including pausing of all services deemed to be "non-essential", deployment of staff across services to new and unfamiliar roles, and moves to remote working. The quality of participants' working life was impaired by increasing levels of daily challenge associated with trying to provide care in trying and constrained circumstances, the problems of forging new ways of working remotely, and constraints on ability to access informal support. Participants were confronted with difficult dilemmas relating to clinical decision-making, prioritisation of care, and compromises in ability to perform the therapeutic function of their roles. Other dilemmas centred on trying to balance the risks of controlling infection with the need for human contact. Many reported features of moral injury linked to their perceived failures in providing the quality or level of care that they felt service users needed. They sometimes sought to compensate for deficits in care through increased advocacy, taking on additional tasks, or making exceptions, but this led to further personal strain. Many experienced feelings of grief, helplessness, isolation, distress, and burnout. These problems were compounded by sometimes poor communication about service changes and by staff feeling that they could not take time off because of the potential impact on others. Some reported feeling poorly supported by organisations.
Conclusions
Mental health workers faced multiple adversities during the pandemic that were highly consequential for their wellbeing. These findings can help in identifying targets for support.
Publication Type:
Article
Additional Information:
This article is licensed under a Creative Commons Attribution 4.0 International License, which permits use, sharing, adaptation, distribution and reproduction in any medium or format, as long as you give appropriate credit to the original author(s) and the source, provide a link to the Creative Commons licence, and indicate if changes were made. The images or other third party material in this article are included in the article's Creative Commons licence, unless indicated otherwise in a credit line to the material. If material is not included in the article's Creative Commons licence and your intended use is not permitted by statutory regulation or exceeds the permitted use, you will need to obtain permission directly from the copyright holder. To view a copy of this licence, visit http://creativecommons.org/licenses/by/4.0/. The Creative Commons Public Domain Dedication waiver (http://creativecommons.org/publicdomain/zero/1.0/) applies to the data made available in this article, unless otherwise stated in a credit line to the data.
Publisher Keywords:
Mental health services, Staff, Healthcare workers, Covid-19, Qualitative
Subjects:
B Philosophy. Psychology. Religion > BF Psychology
R Medicine > RA Public aspects of medicine
Departments:
School of Health & Psychological Sciences > Healthcare Services Research & Management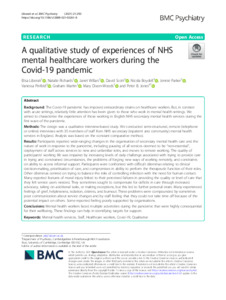 Preview
Text - Published Version
Available under License Creative Commons Attribution.
Download (586kB) | Preview
Export
Downloads
Downloads per month over past year