The European Union's response to the Covid-19 crisis and (the legitimacy of) the Union's legal order
Delhomme, V. & Hervey, T.

ORCID: 0000-0002-8310-9022 (2023). The European Union's response to the Covid-19 crisis and (the legitimacy of) the Union's legal order. Yearbook of European Law, doi: 10.1093/yel/yeac011
Abstract
In EU legal scholarship, crises are associated with further European integration, often with legal and institutional innovations. Our analysis, covering examples of all aspects of 'Union Covid law', investigates two questions. To what extent is this true for the Covid-19 crisis – is Union Covid law what we expected? How has the pandemic re-shaped our understanding of the Union's legal order, and especially its legitimacy?
We draw out three broad overlapping themes, the 'market/social'; 'science/politics'; and 'technocracy/democracy' dimensions of Union law. We consider both the Union's health law, and its economic governance, alongside other changes across a wide sweep of Union law including institutional law, and numerous aspects of internal market law, such as competition/state aids and consumer protection law.
Overall, we show that Union Covid law is mostly predictable. However, our analysis demonstrates two important surprises. First, a narrow notion of the disciplines of the internal market, usually supposed to be fundamental to Union law, has been profoundly challenged. Second, the Union has not only deployed all its existing redistributive competences to respond to the pandemic. The Union has also effectively redefined its fiscal and economic governance powers to create a redistributive facility which, though formally limited in time, far exceeds in scale and scope any previous Union redistributive activity. Past Union crisis responses involved changes taking place outside Union legal structures, with the law sometimes 'playing catch up' in later Treaty amendments. This time, the Union's Covid-19 crisis response at least purportedly takes place within existing legal constraints. This is new.
We show, on the one hand, that the Union's 'output' legitimacy has been enhanced. The Union is not forever condemned to lack legitimacy because of its economic constitutional settlement. The idea of a Union based on a legally encoded dominance of the 'economic' over 'health' interests – already widely discredited in Union health law scholarship – is replaced by Union law based on creative interpretations of formal competences, designed to meet the needs of human health as well as Union-wide economic recovery. On the other hand, however, the move to executive and technocratic governance associated with the Union's pandemic response is a step backwards in terms of 'input' and 'throughput' legitimacy, in terms of both policy substance and law enforcement. The lack of democratic or judicial oversight over Union Covid-19 (soft) law negatively affects the legitimacy of Union law.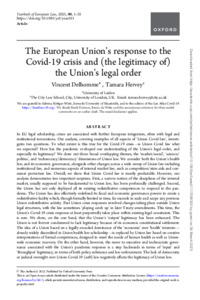 Preview
Text - Published Version
Available under License Creative Commons Attribution.
Download (399kB) | Preview
Export
Downloads
Downloads per month over past year
Altmetric

Altmetric
CORE (COnnecting REpositories)

CORE (COnnecting REpositories)
Actions (login required)

Actions (login required)