Global norms and the international regulation of pesticide production and use
Hough, P. (1994). Global norms and the international regulation of pesticide production and use. (Unpublished Doctoral thesis, City, University of London)
Abstract
This study analyses the various political questions that surround the use and production of pesticide chemicals. The method of analysis employed orders these policy-questions into distinct issues, where it can be seen that groups of questions are related, in terms of representing matters of contention centred on a particular norm of behaviour.
It emerges from this exercise that seven norms of behaviour can be identified as those determining the behaviour of actors within the whole set of pesticides policy-questions (the policy-system). Consequently, seven issue-systems, each comprising of the set of actors for whom a norm is salient, can be isolated.
Each of the seven issue-systems are examined in turn, highlighting the nature of the policy-questions and the political behaviour of the actors involved. Of these seven issue-systems, the first two are based on the prescriptive norms that uphold the use and production of pesticides. These norms are relatively uncontentious in themselves and achieve most significance as the counterbalances to the five proscriptive norms. Hence, most of the political activity in the pesticides policy-system emerges in the issues covered by chapters four to nine, where actors are forced to choose between competing norms to guide their behaviour.
Central to this political activity is the development of international regimes. These are subsets within the an issue-system, responsible for decision-making and the implementation of rules in line with the norm which defines the issue. Two such international regimes are found to be in existence within the pesticides policy-system, regulating the issues of pesticide trade and the contamination of food by pesticides. The five other issue-systems can be seen as essentially unregulated. A number of theories concerning the causal factors in the formation of regimes are then outlined and their applicability to the presence or absence of regimes in the seven issues of pesticides politics considered.
The underlying premise of this study is that the formation of international regimes is facilitated by many factors and not solely by the desire of actors to maximize their interests, viewed in terms of power and short-term calculations of act-utility. Rather, it has been demonstrated that values are a significant force in the emergence of global norms. Hence it transpires that the behaviour of actors in the global- system, as in the pesticides policy-system, should not be understood simply in terms of a traditional rational-actor model according to which actors (usually assumed to be states) are motivated by the need to maximize their power in relation to other actors.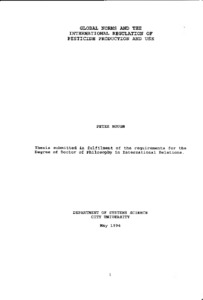 Preview
Text - Accepted Version


Download (9MB) | Preview
Export
Downloads
Downloads per month over past year
Altmetric

Altmetric
CORE (COnnecting REpositories)

CORE (COnnecting REpositories)
Actions (login required)

Actions (login required)