Engaging adolescents in changing behaviour (EACH-B): a study protocol for a cluster randomised controlled trial to improve dietary quality and physical activity
Strömmer, S., Barrett, M.

ORCID: 0000-0002-1981-1976, Woods-Townsend, K. , Baird, J., Farrell, D., Lord, J., Morrison, L., Shaw, S., Vogel, C., Lawrence, W., Lovelock, D., Bagust, L., Varkonyi-Sepp, J., Coakley, P., Campbell, L., Anderson, R., Horsfall, T., Kalita, N., Onyimadu, O., Clarke, J., Cooper, C., Chase, D., Lambrick, D., Little, P., Hanson, M., Godfrey, K., Inskip, H. & Barker, M. (2020). Engaging adolescents in changing behaviour (EACH-B): a study protocol for a cluster randomised controlled trial to improve dietary quality and physical activity. Trials, 21(1), 859. doi: 10.1186/s13063-020-04761-w
Abstract
BACKGROUND: Poor diet and lack of physical activity are strongly linked to non-communicable disease risk, but modifying them is challenging. There is increasing recognition that adolescence is an important time to intervene; habits formed during this period tend to last, and physical and psychological changes during adolescence make it an important time to help individuals form healthier habits. Improving adolescents' health behaviours is important not only for their own health now and in adulthood, but also for the health of any future children. Building on LifeLab-an existing, purpose-built educational facility at the University of Southampton-we have developed a multi-component intervention for secondary school students called Engaging Adolescents in Changing Behaviour (EACH-B) that aims to motivate and support adolescents to eat better and be more physically active.
METHODS: A cluster randomised controlled trial is being conducted to evaluate the effectiveness of the EACH-B intervention. The primary outcomes of the intervention are self-reported dietary quality and objectively measured physical activity (PA) levels, both assessed at baseline and at 12-month follow-up. The EACH-B intervention consists of three linked elements: professional development for teachers including training in communication skills to support health behaviour change; the LifeLab educational module comprising in-school teaching of nine science lessons linked to the English National Curriculum and a practical day visit to the LifeLab facility; and a personalised digital intervention that involves social support and game features that promote eating better and being more active. Both the taught module and the LifeLab day are designed with a focus on the science behind the messages about positive health behaviours, such as diet and PA, for the adolescents now, in adulthood and their future offspring, with the aim of promoting personal plans for change. The EACH-B research trial aims to recruit approximately 2300 secondary school students aged 12-13 years from 50 schools (the clusters) from Hampshire and neighbouring counties. Participating schools will be randomised to either the control or intervention arm. The intervention will be run during two academic years, with continual recruitment of schools throughout the school year until the sample size is reached. The schools allocated to the control arm will receive normal schooling but will be offered the intervention after data collection for the trial is complete. An economic model will be developed to assess the cost-effectiveness of the EACH-B intervention compared with usual schooling.
DISCUSSION: Adolescents' health needs are often ignored and they can be difficult to engage in behaviour change. Building a cheap, sustainable way of engaging them in making healthier choices will benefit their long-term health and that of their future children.
TRIAL REGISTRATION: ISRCTN 74109264 . Registered on 30 August 2019. EACH-B is a cluster randomised controlled trial, funded by the National Institute for Health Research (RP-PG-0216-20004).
Publication Type:
Article
Additional Information:
This article is licensed under a Creative Commons Attribution 4.0 International License, which permits use, sharing, adaptation, distribution and reproduction in any medium or format, as long as you give appropriate credit to the original author(s) and the source, provide a link to the Creative Commons licence, and indicate if changes were made. The images or other third party material in this article are included in the article's Creative Commons licence, unless indicated otherwise in a credit line to the material. If material is not included in the article's Creative Commons licence and your intended use is not permitted by statutory regulation or exceeds the permitted use, you will need to obtain permission directly from the copyright holder. To view a copy of this licence, visit http://creativecommons.org/licenses/by/4.0/. The Creative Commons Public Domain Dedication waiver (http://creativecommons.org/publicdomain/zero/1.0/) applies to the data made available in this article, unless otherwise stated in a credit line to the data.
Publisher Keywords:
Adolescence, Behaviour change, Body composition, Cluster randomised controlled trial, Cost-effectiveness, Diet, Digital intervention, Education, Physical activity
Subjects:
Q Science > QH Natural history > QH301 Biology
R Medicine > RA Public aspects of medicine > RA0421 Public health. Hygiene. Preventive Medicine
Departments:
School of Health & Psychological Sciences > Healthcare Services Research & Management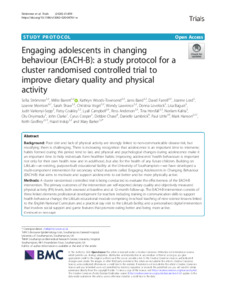 Preview
Text - Published Version
Available under License Creative Commons Attribution.
Download (946kB) | Preview
Export
Downloads
Downloads per month over past year