High degree of prostate related LUTS in a prospective cross-sectional community study in Ghana (Mamprobi)
Asare, G. A., Sule, D. S., Oblitey, J. N. , Ntiforo, R., Asiedu, B., Amoah, B. Y., Lamptey, E. L., Afriyie, D. K. & Ohene-Botwe, B.

ORCID: 0000-0002-0477-640X (2021). High degree of prostate related LUTS in a prospective cross-sectional community study in Ghana (Mamprobi). Heliyon, 7(11), e08391. doi: 10.1016/j.heliyon.2021.e08391
Abstract
BACKGROUND: Changing voiding patterns, volume and frequency, may sometimes be mistaken for anxiety, stress or increase in fluid consumption. In the aging male population, the commencement of lower urinary tract symptoms (LUTS) may be silent and perceived as "normal" and unrelated to Benign prostatic enlargement (BPE). The purpose of the study was to determine the prevalence of apparently "silent LUTS" (perceived asymptomatic LUTS) in men in a Ghanaian Community as well as its underlying risk factors.
METHODS: One hundred and eleven (111) men (40-70 years) were recruited from a community in Ghana. The International Prostate Symptoms Score (IPSS) questionnaire (administered in the local language and English) and ultrasonographic imaging of the prostate volume (PV) were utlized to collect data. IPSS score >7 plus PV > 30 cm3 was definitive of lower urinary tract symptoms. Eighty-one (81) participants were classified "LUTS Negative" (LN) and 30, "LUTS Positive" (LP). Risk factors i.e., cholesterol (CHOL), triglyceride (TG), high density lipoprotein cholesterol (HDL-C), low density lipoprotein cholesterol (LDL-C), very low-density lipoprotein (VLDL), coronary risk (CR), BMI and Blood Pressure were also determined.
RESULTS: The prevalence of LUTS using only IPSS definition alone was 42.3%. However, IPSS in combination with Prostate Volume gave a prevalence of 27.0%. LN subjects had enlarged prostate (41.98%) and LP, 100%. Quality of life (QoL) was better in the LUTS Negative than LUTS Positive group (p < 0.001). In the univariant analysis coronary risk, triglyceride and VLDL contributed to LUTS (p = 0.023, 0.22, 0.22, respectively). In a multivariant analysis HDL-C (p = 0.027), BMI (p = 0.047) and triglyceride (p = 0.019) significantly contributed to LUTS.
CONCLUSIONS: The prevalence of LUTS (42.3%) is high. Components of Metabolic Syndrome- HDL-C, BMI, and coronary risk were associated with LUTS. This emphasizes the need for community education.
| | |
| --- | --- |
| Publication Type: | Article |
| Additional Information: | This article is available under the Creative Commons CC-BY-NC-ND license and permits non-commercial use of the work as published, without adaptation or alteration provided the work is fully attributed. |
| Publisher Keywords: | Benign prostatic hyperplasia (BPH); Lower urinary tract symptoms (LUTS); Metabolic syndrome (MetS); Prostate volume |
| Subjects: | R Medicine > RC Internal medicine |
| Departments: | School of Health & Psychological Sciences > Midwifery & Radiography |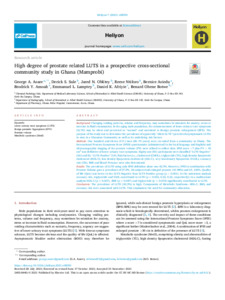 Preview
Text - Published Version
Available under License Creative Commons Attribution Non-commercial No Derivatives.
Download (457kB) | Preview
Export
Downloads
Downloads per month over past year
Altmetric

Altmetric
CORE (COnnecting REpositories)

CORE (COnnecting REpositories)
Actions (login required)

Actions (login required)