Busoni's 'Beiträge zu einer Hochschule des Clavierspiels' and the performance of Bach on the modern piano
van der Klis, J. M. (2022). Busoni's 'Beiträge zu einer Hochschule des Clavierspiels' and the performance of Bach on the modern piano. (Unpublished Doctoral thesis, Guildhall School of Music and Drama)
Abstract
Ferruccio Busoni (1866-1924) was one of the leading figures of his time in the fields of piano performance, editing, and composition. He was an influential teacher and advocate for young performers and composers, and he left an indelible mark on twentieth-century musical life.
This thesis provides the first detailed account of Busoni's editing and performance of Bach. Through an in-depth analysis of his Bach editions and related sources, including essays, archival material, recordings, and transcriptions, I show how Busoni's contributions to the understanding and performance of Bach's keyboard music are particularly rich and thought-provoking.
Recently published material discussed in Chapter 1 (Why Busoni?) reveals Busoni to have been a conscientious editor whose role in his interpretative editions was that of a mentor rather than a stern teacher. Contextual evidence demonstrates that his work was influential for many of his peers and successors, which further consolidates Busoni's position in the history of Bach piano playing.
Special attention is given in Chapter 2 (Reading Busoni) to Busoni's early interpretative editions of Bach for Breitkopf & Härtel: the Inventions and Sinfonias were intended as a 'preparatory school', while Busoni regarded his edition of the First Book of the Well-tempered Clavier as his 'testament' for pianists. These editions constitute part of what Busoni referred to as his 'Beiträge zu einer Hochschule des Clavierspiels' ('Contributions to an Advanced School of Piano Playing'). Close reading of the musical indications and annotations in Busoni's editions reveals how his playing emphasised the compositional structure of the music through a variety of means including subtle use of tempo flexibility. Examples will be given of peers and successors taking inspiration from Busoni and developing aspects found in his editions.
Busoni's attitude towards the early acoustic recording process, as revealed in correspondence with his English management agency, provides the context for an analysis of the playing style captured on his only surviving acoustic recording of Bach in Chapter 3 (Listening to Busoni).
This analytical work forms the basis for an auto-ethnographical exploration of my past and present approaches to the piano performance of Bach and how Busoni's output is informing aspects of my continuing practice in Chapter 4 (Playing with Busoni). This process is documented in annotated musical scores. I will discuss my Doctoral recital and additional recordings in Chapter 5 (Recital and Recordings).
The outcomes of this research constitute both a report of Busoni's editorial approach to Bach placed within a broader historical and musicological context, and an account of the development of my own interpretation of Bach's keyboard music after consulting Busoni's editions. Finally, the accompanying recordings aim to bring to life those subtleties of musical notation discussed in this thesis.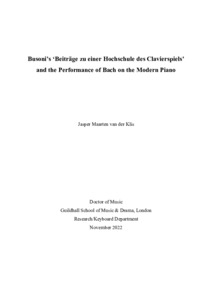 Preview
Text - Accepted Version


Download (15MB) | Preview
Export
Downloads
Downloads per month over past year
Altmetric

Altmetric
CORE (COnnecting REpositories)

CORE (COnnecting REpositories)
Actions (login required)

Actions (login required)