"Difficult but Good": Enjoying Accessible Digital Creativity
Roper, A.

ORCID: 0000-0001-6950-6294, Barnard, R. A., Cruice, M.

ORCID: 0000-0001-7344-2262 , Marshall, J.

ORCID: 0000-0002-6589-221X, Mulholland, A., Neate, T.

ORCID: 0000-0002-1387-8168 & Wilson, S.

ORCID: 0000-0001-6445-654X (2023). "Difficult but Good": Enjoying Accessible Digital Creativity. Aphasiology, doi: 10.1080/02687038.2022.2160624
Abstract
Background: Digital technology is increasingly researched in aphasia rehabilitation but mostly to replicate conventional speech and language therapies. While creative activities are employed in therapy for aphasia, these are not achieved through digital technology and little is known about the impact of digital creativity on people with aphasia.
Aim: To explore how people with aphasia use and experience non-therapeutic creative digital technologies.
Methods & Procedures: We facilitated a series of six community-based workshops for people with aphasia to explore four novel digital creative technologies. Following completion of the workshop series, nine participants were interviewed about their experience of taking part and of engaging with the creative technologies. Interview data were transcribed and analysed using the Framework Method.
Outcomes & Results: Analysis identified two overarching themes addressing creative and technological capability and conceptions of success. Results indicate that creative and accessible digital technologies, presented within the context of a safe, facilitatory social space, fostered experiences of capability and positive challenge for participants.
Conclusions: Engagement with creative and accessible digital technologies for the sake of engagement alone may offer new therapeutic and recreational opportunities for people with aphasia. Results indicate the potential for such activities, when undertaken within a supportive group context, to spark not only enjoyment and stimulation but also to illuminate and underscore capability.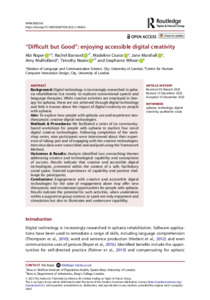 Preview
Text - Published Version
Available under License Creative Commons: Attribution International Public License 4.0.
Download (9MB) | Preview

Text - Accepted Version
This document is not freely accessible due to copyright restrictions.
Export
Downloads
Downloads per month over past year