Understanding perinatal mental health peer support in the third sector using critical realism
McLeish, J. (2022). Understanding perinatal mental health peer support in the third sector using critical realism. (Unpublished Doctoral thesis, City, University of London)
Abstract
Background
Mental health difficulties are common in the perinatal period. Peer support has been proposed as a way to improve emotional wellbeing, but the evidence base for third sector programmes is undeveloped. The overall aim of this research was to deepen understanding of what it is about perinatal mental health peer support in the third sector that works, for whom, in what circumstances, in what respects, and why.
Setting
Parents in Mind, a pilot third sector programme offering one-to-one and group perinatal peer support from trained volunteers at three sites in England.
Methods
A critical realist, mixed methods, theory-based process evaluation, supported by a realist review. An initial theory of change was used to guide the evaluation. Quantitative programme data and data from mothers' self-report questionnaires were analysed with descriptive and inferential statistics. Qualitative interviews with 20 supported mothers, 27 volunteers, six staff and three trainers were analysed using realist principles and some techniques from Grounded Theory. Retroduction was used to explore configurations of contexts, mechanisms and outcomes and construct a final theory of change.
Results
182 mothers received peer support from 77 volunteers. Three-quarters of mothers were White British, nearly half were socio-economically disadvantaged, and three-quarters had a previous history of mental health difficulties. There were many contextual differences between the three sites, and local and national adaptations were made. The final theory of change included 16 programme theories linking contextual factors to mothers' individual choices to use peer support, based on a mother's beliefs about the utility of talking to others and to peers specifically; social expectations; her relationship with health and social care professionals and mental health services; perceived practical benefits; and ability to overcome barriers to access. A further 16 programme theories explained positive impact on mothers, including through feeling understood and accepted, normalisation, social comparison and information sharing; and 12 theories explained negative impact on mothers, where key peer support mechanisms were absent or through negative social comparison. Eight programme theories explained the positive impact on volunteers, based on their own experience of peer support and insight into mental health during training, gaining skills and confidence, and satisfaction at helping others; and seven theories explained the negative impact on volunteers, because of feeling emotionally 'triggered', stressful social dynamics between volunteers, and distress if they did not feel their support was helping mothers. Individual mothers and volunteers were affected in different ways, depending on their individual backgrounds, personalities, social situations, resources, experiences, beliefs, and needs. Parents in Mind had robust processes to keep volunteers and mothers emotionally safe, and all participants considered the benefits of peer support to greatly outweigh the risks.
Conclusions: The Parents in Mind peer support model is safe and capable of enabling positive change for both mothers and volunteers through multiple contextualised pathways. Outcome measures should recognise that mothers (and volunteers) benefit from peer support in a range of ways, and programmes should be aware of the potential for negative effects in order to mitigate these. Programmes should work with local communities to understand what they want so that the peer support offer is adapted flexibly to their needs.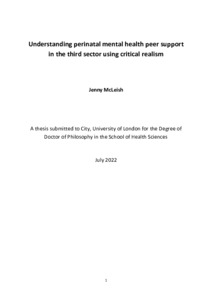 Preview
Text - Accepted Version


Download (3MB) | Preview
Export
Downloads
Downloads per month over past year
Altmetric

Altmetric
CORE (COnnecting REpositories)

CORE (COnnecting REpositories)
Actions (login required)

Actions (login required)