Current state of the evidence on community treatments for people with complex emotional needs: a scoping review
Ledden, S., Rains, L. S., Schlief, M. , Barnett, P., Ching, B. C. F., Hallam, B., Günak, M. M., Steare, T., Parker, J.

ORCID: 0000-0001-5179-729X, Labovitch, S., Oram, S., Pilling, S., Johnson, S., Papamichail, A., Mason, A., Thayaparan, A., Wang, B., Locke, C. D., Harju-Seppänen, J., Mo, J., Tomaskova, M., Lyons, N., Spyridonidis, S., James, T., Dedat, Z. & Haime, Z. (2022). Current state of the evidence on community treatments for people with complex emotional needs: a scoping review. BMC Psychiatry, 22, 589. doi: 10.1186/s12888-022-04171-z
Abstract
Background
Improving the quality of care in community settings for people with 'Complex Emotional Needs' (CEN—our preferred working term for services for people with a "personality disorder" diagnosis or comparable needs) is recognised internationally as a priority. Plans to improve care should be rooted as far as possible in evidence. We aimed to take stock of the current state of such evidence, and identify significant gaps through a scoping review of published investigations of outcomes of community-based psychosocial interventions designed for CEN.
Methods
We conducted a scoping review with systematic searches. We searched six bibliographic databases, including forward and backward citation searching, and reference searching of relevant systematic reviews. We included studies using quantitative methods to test for effects on any clinical, social, and functioning outcomes from community-based interventions for people with CEN. The final search was conducted in November 2020.
Results
We included 226 papers in all (210 studies). Little relevant literature was published before 2000. Since then, publications per year and sample sizes have gradually increased, but most studies are relatively small, including many pilot or uncontrolled studies. Most studies focus on symptom and self-harm outcomes of various forms of specialist psychotherapy: most result in outcomes better than from inactive controls and similar to other specialist psychotherapies. We found large evidence gaps. Adaptation and testing of therapies for significant groups (e.g. people with comorbid psychosis, bipolar disorder, post-traumatic stress disorder, or substance misuse; older and younger groups; parents) have for the most part only reached a feasibility testing stage. We found little evidence regarding interventions to improve social aspects of people's lives, peer support, or ways of designing effective services.
Conclusions
Compared with other longer term mental health problems that significantly impair functioning, the evidence base on how to provide high quality care for people with CEN is very limited. There is good evidence that people with CEN can be helped when specialist therapies are available and when they are able to engage with them. However, a much more methodologically robust and substantial literature addressing a much wider range of research questions is urgently needed to optimise treatment and support across this group.
Publication Type:
Article
Additional Information:
This article is licensed under a Creative Commons Attribution 4.0 International License, which permits use, sharing, adaptation, distribution and reproduction in any medium or format, as long as you give appropriate credit to the original author(s) and the source, provide a link to the Creative Commons licence, and indicate if changes were made. The images or other third party material in this article are included in the article's Creative Commons licence, unless indicated otherwise in a credit line to the material. If material is not included in the article's Creative Commons licence and your intended use is not permitted by statutory regulation or exceeds the permitted use, you will need to obtain permission directly from the copyright holder. To view a copy of this licence, visit http://creativecommons.org/licenses/by/4.0/. The Creative Commons Public Domain Dedication waiver (http://creativecommons.org/publicdomain/zero/1.0/) applies to the data made available in this article, unless otherwise stated in a credit line to the data.
Publisher Keywords:
Complex emotional needs, Personality disorder, Scoping review
Subjects:
B Philosophy. Psychology. Religion > BF Psychology
R Medicine > RA Public aspects of medicine > RA0421 Public health. Hygiene. Preventive Medicine
Departments:
School of Health & Psychological Sciences > Healthcare Services Research & Management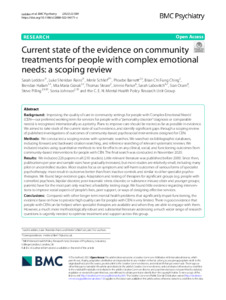 Preview
Text - Published Version
Available under License Creative Commons Attribution.
Download (1MB) | Preview
Export
Downloads
Downloads per month over past year