Management of radical change: A case study of Hungarian telecommunications
Kamall, S. S. (1994). Management of radical change: A case study of Hungarian telecommunications. (Unpublished Doctoral thesis, City, University of London)
Abstract
The liberalisation of the political and economic systems of Hungary has led to major changes in Hungarian telecommunications. These changes are compounded by the requirement to modernise and expand the network to make up for years of neglect, and to provide for the many consumers without a telephone service. The recently privatised Hungarian Telecommunications Company (HTC) is in the process of major structural, cultural and technological reorganisation, in order to achieve a customer-driven organisation. Before HTC was established in 1990, telecommunications was government-controlled and functioned as a professional bureaucracy, within the constraints imposed by the communist government and with little regard for customers' needs.
This thesis analyses the radical change faced by HTC between January 1990 and March 1994. It begins by comparing the changes in HTC to the experience of British Telecom in the 1980s. The research then examines the current literature on the subjects of management of change and radical change. It considers their relevance in analysing the
type of change that the Hungarian Telecommunications Company (HTC) is experiencing, i.e. technical change in an organisation which is itself undergoing structural and commercial change; this in a country experiencing economic, social and political changes. Current management of change theories are found to be inadequate since they are largely based on case studies of incremental changes within organisations in western Europe, the USA and other developed countries. Where the literature discusses 'radical change', it refers to changes that are quite modest compared to those
affecting organisations in central and eastern Europe.
Even though current theories may not prove adequate for the analysis of radical change some elements or concepts are considered relevant. Several concepts are identified as relevant to radical change including: culture; power; politics; uncertainty; structures; contingencies and systems thinking. It is also apparent that radical change should be analysed at three levels, at least: that of the individual; the group; and the whole organisation in relation to its environment and other contingencies. These concepts are then used to construct a theoretical framework to analyse the radical change that HTC is experiencing. The framework for analysis is not meant to be prescriptive, i.e telling managers how to manage radical change on a day to day basis. It aims to be more descriptive by providing lessons for managers in other organisations undergoing radical change. It should be thought of more as a 'tool kit' offering managers a range of
'conceptual tools' that need to be considered in order to manage the change process.
In order to construct the theoretical framework a number of approaches are considered including; systems thinking, chaos theory and a dialectic approach. The dialectic approach is found to offer the best way forward and is used to construct the framework for analysis of radical change. The analytical framework is then applied to HTC, in order to explain the changes between January 1990 and March 1994, and to offer suggestions for tackling outstanding problems during the ongoing change process. Finally the analytical framework is critically evaluated and a simple version is presented as an aid to memory.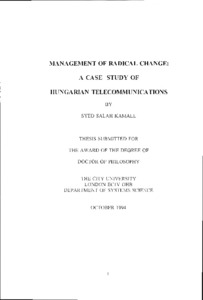 Preview
Text - Accepted Version


Download (10MB) | Preview
Export
Downloads
Downloads per month over past year
Altmetric

Altmetric
CORE (COnnecting REpositories)

CORE (COnnecting REpositories)
Actions (login required)

Actions (login required)