Interpretation is opinion: realigning the fact/opinion distinction in English defamation law
Bennett, T.

ORCID: 0000-0002-9826-3356 (2023). Interpretation is opinion: realigning the fact/opinion distinction in English defamation law. The Journal of Media Law, doi: 10.1080/17577632.2023.2216523
Abstract
Statements that interpret the words of others are – by their very nature – interpretative. Meaning is not objective; it is something that those who encounter those words or actions construct. Interpretation is therefore contingent; it is an (inter)subjective, audience-led process by which meaning is attributed to those words. Insofar as interpretation is necessarily (inter)subjective, it makes little sense for the law to treat interpretative statements as purporting to set out provable facts. And yet English defamation law does precisely this. As a result, participation in debate surrounding ambiguous words or actions that are put into the public domain by one person can cost another who interprets those words in a particular way and criticises them dearly. This happened recently in the High Court case of Riley v Murray [2021] EWHC 3437 (QB), [2022] EMLR 8, when M's statement, interpreting an ambiguous 'tweet' posted by R, was labelled a statement of fact by the Court and found to be both defamatory and indefensible.
This essay critiques the peculiarities of English defamation doctrine that have created this situation, and argues that treating all published statements that interpret or purport to interpret one or more earlier statements, whether expressly or impliedly, ought to be treated as statements of opinion. Defendants who publish such statements will then be in a position to avail themselves of the honest opinion defence (subject to meeting its elements). By adopting this approach, English defamation law can address an issue that has the potential to cause significant chilling effects on public discourse – particularly on social media.
| | |
| --- | --- |
| Publication Type: | Article |
| Additional Information: | © 2023 The Author(s). Published by Informa UK Limited, trading as Taylor & Francis GroupThis is an Open Access article distributed under the terms of the Creative Commons Attribution-NonCommercial-NoDer-ivatives License (http://creativecommons.org/licenses/by-nc-nd/4.0/), which permits non-commercial re-use, distri-bution, and reproduction in any medium, provided the original work is properly cited, and is not altered,transformed, or built upon in any way. The terms on which this article has been published allow the posting of theAccepted Manuscript in a repository by the author(s) or with their consent. |
| Publisher Keywords: | Defamation, libel, fact/opinion distinction, honest opinion, truth, freedom of expression |
| Subjects: | K Law > KD England and Wales |
| Departments: | The City Law School > Academic Programmes |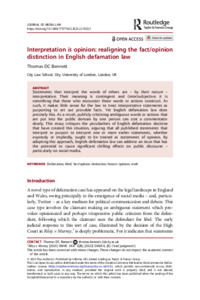 Preview
Text - Published Version
Available under License Creative Commons Attribution Non-commercial No Derivatives.
Download (2MB) | Preview

Text - Accepted Version
This document is not freely accessible due to copyright restrictions.
Export
Downloads
Downloads per month over past year
Altmetric

Altmetric
CORE (COnnecting REpositories)

CORE (COnnecting REpositories)
Actions (login required)

Actions (login required)