General practice wide adaptations to support patients affected by DVA during the COVID-19 pandemic: a rapid qualitative study
Dixon, S., De Simoni, A., Szilassy, E. , Emsley, E., Wileman, V., Feder, G., Downes, L., Barbosa Capelas, E.

ORCID: 0000-0001-8282-131X, Panovska-Griffiths, J., Griffiths, C. & Dowrick, A. (2023). General practice wide adaptations to support patients affected by DVA during the COVID-19 pandemic: a rapid qualitative study. BMC Primary Care, 24(1), 78. doi: 10.1186/s12875-023-02008-6
Abstract
Background
Reporting of domestic violence and abuse (DVA) increased globally during the pandemic. General Practice has a central role in identifying and supporting those affected by DVA. Pandemic associated changes in UK primary care included remote initial contacts with primary care and predominantly remote consulting. This paper explores general practice's adaptation to DVA care during the COVID-19 pandemic.
Methods
Remote semi-structured interviews were conducted by telephone with staff from six localities in England and Wales where the Identification and Referral to Improve Safety (IRIS) primary care DVA programme is commissioned. We conducted interviews between April 2021 and February 2022 with three practice managers, three reception and administrative staff, eight general practice clinicians and seven specialist DVA staff. Patient and public involvement and engagement (PPI&E) advisers with lived experience of DVA guided the project. Together we developed recommendations for primary care teams based on our findings.
Results
We present our findings within four themes, representing primary care adaptations in delivering DVA care: 1. Making general practice accessible for DVA care: staff adapted telephone triaging processes for appointments and promoted availability of DVA support online. 2. General practice team-working to identify DVA: practices developed new approaches of collaboration, including whole team adaptations to information processing and communication 3. Adapting to remote consultations about DVA: teams were required to adapt to challenges including concerns about safety, privacy, and developing trust remotely. 4. Experiences of onward referrals for specialist DVA support: support from specialist services was effective and largely unchanged during the pandemic.
Conclusions
Disruption caused by pandemic restrictions revealed how team dynamics and interactions before, during and after clinical consultations contribute to identifying and supporting patients experiencing DVA. Remote assessment complicates access to and delivery of DVA care. This has implications for all primary and secondary care settings, within the NHS and internationally, which are vital to consider in both practice and policy.
Publication Type:
Article
Additional Information:
This article is licensed under a Creative Commons Attribution 4.0 International License, which permits use, sharing, adaptation, distribution and reproduction in any medium or format, as long as you give appropriate credit to the original author(s) and the source, provide a link to the Creative Commons licence, and indicate if changes were made. The images or other third party material in this article are included in the article's Creative Commons licence, unless indicated otherwise in a credit line to the material. If material is not included in the article's Creative Commons licence and your intended use is not permitted by statutory regulation or exceeds the permitted use, you will need to obtain permission directly from the copyright holder. To view a copy of this licence, visit http://creativecommons.org/licenses/by/4.0/.
Publisher Keywords:
Domestic Violence and Abuse (DVA), General Practice, COVID pandemic
Subjects:
H Social Sciences > HN Social history and conditions. Social problems. Social reform
H Social Sciences > HV Social pathology. Social and public welfare
Q Science > QR Microbiology > QR180 Immunology
R Medicine > RA Public aspects of medicine > RA0421 Public health. Hygiene. Preventive Medicine
Departments:
School of Policy & Global Affairs > Violence and Society Centre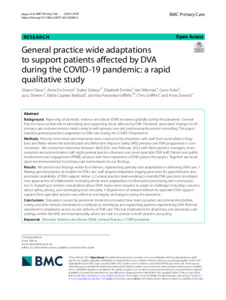 Preview
Text - Published Version
Available under License Creative Commons: Attribution International Public License 4.0.
Download (1MB) | Preview
Export
Downloads
Downloads per month over past year