Commodity Feminism and Dressing the 'Best Self' on A Practical Wedding
Parkins, I. & Findlay, R.

ORCID: 0000-0001-8596-6880 (2021). Commodity Feminism and Dressing the 'Best Self' on A Practical Wedding. Australian Feminist Studies, 36(109), pp. 297-312. doi: 10.1080/08164649.2021.2018992
Abstract
Fashion as a cultural industry, with its interface between self and social, is laden with potential for interventions in systems of power. Yet its changemaking potential is susceptible to co-optation by neoliberal discourses that harness politics with a commodified, perfectible individuality that superficially counteracts hegemony even as it subtly reinforces it. So much is evident in nominally feminist wedding website A Practical Wedding, which provides an alternative media space for people who are marginalized by or politically opposed to the politics and commercial logics of the mainstream wedding industry. While many of its posts critique the 'wedding industrial complex' and provide meaningful spaces for queer and feminist people to discuss and plan their weddings, the posts relating to fashion and dress are largely emptied of feminist politics. While these posts gesture towards inclusivity and resistance, by harnessing these messages to commodity feminism and neoliberal concepts of self-perfection, these posts ultimately reinforce the heteropatriarchal messages in the industry that APW is ostensibly trying to resist. This article asks: what is at stake in the blog's excision of fashion from politics? What insights does this cleavage between apparel and the feminist political scene offer for scholars of feminism's digital ecosystem?
Publication Type:
Article
Additional Information:
© 2021 The Author(s). Published by Informa UK Limited, trading as Taylor & Francis Group This is an Open Access article distributed under the terms of the Creative Commons Attribution-NonCommercial-NoDerivatives License (http://creativecommons.org/licenses/by-nc-nd/4.0/), which permits non-commercial re-use, distribution, and reproduction in any medium, provided the original work is properly cited, and is not altered, transformed, or built upon in any way.
Publisher Keywords:
Fashion, neoliberalism, blogs, weddings, feminist media
Subjects:
H Social Sciences > HM Sociology
H Social Sciences > HQ The family. Marriage. Woman
Departments:
School of Communication & Creativity > Media, Culture & Creative Industries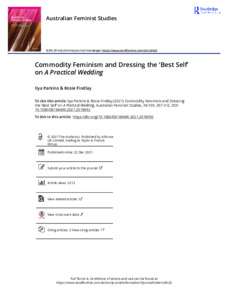 Preview
Text - Published Version
Available under License Creative Commons Attribution Non-commercial No Derivatives.
Download (1MB) | Preview
Export
Downloads
Downloads per month over past year