Contrastive counterfactual visual explanations with overdetermination
White, A., Ngan, K. H., Phelan, J. , Ryan, K., Afgeh, S. S., Reyes-Aldasoro, C. C.

ORCID: 0000-0002-9466-2018 & d'Avila Garcez, A. (2023). Contrastive counterfactual visual explanations with overdetermination. Machine Learning, doi: 10.1007/s10994-023-06333-w
Abstract
A novel explainable AI method called CLEAR Image is introduced in this paper. CLEAR Image is based on the view that a satisfactory explanation should be contrastive, counterfactual and measurable. CLEAR Image seeks to explain an image's classification probability by contrasting the image with a representative contrast image, such as an auto-generated image obtained via adversarial learning. This produces a salient segmentation and a way of using image perturbations to calculate each segment's importance. CLEAR Image then uses regression to determine a causal equation describing a classifier's local input–output behaviour. Counterfactuals are also identified that are supported by the causal equation. Finally, CLEAR Image measures the fidelity of its explanation against the classifier. CLEAR Image was successfully applied to a medical imaging case study where it outperformed methods such as Grad-CAM and LIME by an average of 27% using a novel pointing game metric. CLEAR Image also identifies cases of causal overdetermination, where there are multiple segments in an image that are sufficient individually to cause the classification probability to be close to one.
Publication Type:
Article
Additional Information:
This article is licensed under a Creative Commons Attribution 4.0 International License, which permits use, sharing, adaptation, distribution and reproduction in any medium or format, as long as you give appropriate credit to the original author(s) and the source, provide a link to the Creative Commons licence, and indicate if changes were made. The images or other third party material in this article are included in the article's Creative Commons licence, unless indicated otherwise in a credit line to the material. If material is not included in the article's Creative Commons licence and your intended use is not permitted by statutory regulation or exceeds the permitted use, you will need to obtain permission directly from the copyright holder. To view a copy of this licence, visit http://creativecommons.org/licenses/by/4.0/.
Publisher Keywords:
Explainable AI, Counterfactual reasoning, Image classification, Overdetermination
Subjects:
Q Science > QA Mathematics > QA75 Electronic computers. Computer science
Departments:
School of Science & Technology > Computer Science
School of Science & Technology > Computer Science > giCentre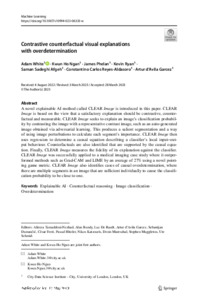 Preview
Text - Published Version
Available under License Creative Commons Attribution.
Download (5MB) | Preview
Export
Downloads
Downloads per month over past year
Altmetric

Altmetric
CORE (COnnecting REpositories)

CORE (COnnecting REpositories)
Actions (login required)

Actions (login required)