Experience of induction of labour: a cross-sectional postnatal survey of women at UK maternity units
Harkness, M., Yuill, C.

ORCID: 0000-0002-3918-5917, Cheyne, H. , McCourt, C.

ORCID: 0000-0003-4765-5795, Black, M., Pasupathy, D., Sanders, J., Heera, N., Wallace, C. & Stock, S. J. (2023). Experience of induction of labour: a cross-sectional postnatal survey of women at UK maternity units. BMJ Open, 13(5), e071703. doi: 10.1136/bmjopen-2023-071703
Abstract
OBJECTIVES: This study explored women's views and experiences of key elements of the induction of labour (IOL) process, including at home or in hospital cervical ripening (CR).
DESIGN: A questionnaire-based postnatal survey undertaken as part of the CHOICE Study process evaluation. The questionnaire was administered online and included fixed response and free-text options.
SETTING: National Health Service maternity units in the UK.
PARTICIPANTS: 309 women who had an IOL.
OUTCOME MEASURES: The primary outcome measure was experience of IOL. Few women returned home during CR, meaning that statistical comparison between those who experienced home-based and hospital-based CR was not possible. Findings are reported as descriptive statistics with content analysis of women's comments providing context.
RESULTS: Information to support choice and understand what to expect about IOL is often inadequate or unavailable. Having IOL can create anxiety and remove options for birth that women had hoped would enhance their experience. Although it can provide a more comfortable environment, home CR is not always an acceptable solution. Women described maternity care negatively impacted by staffing shortages; delays to care sometimes led to unsafe situations. Women who had a positive experience of IOL described supportive interaction with staff as a significant contribution to that.
CONCLUSIONS: Women do not experience IOL as a benign and consequence free intervention. There is urgent need for research to better target IOL and optimise safety and experience for women and their babies. Relatively few women were offered CR at home and further research is needed on this experience.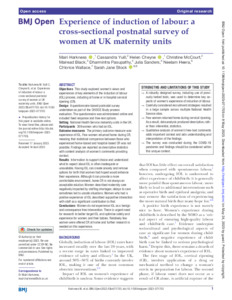 Preview
Text - Published Version
Available under License Creative Commons Attribution Non-commercial.
Download (1MB) | Preview
Export
Downloads
Downloads per month over past year