Stress: A practitioner's perspectives on the stressor-strain-health relationship - Volume 1
Jenkins, D. E. (2003). Stress: A practitioner's perspectives on the stressor-strain-health relationship - Volume 1. (Unpublished Doctoral thesis, City, University of London)
Abstract
This thesis offers a practitioner's perspectives on stress through an investigation of job stress; a case study of an individual suffering from chronic stress; and a review of stress, coping and positive adjustment to the isolated and confined environment (I.C.E.) of Antarctica.
A convergence of methodologies is adopted in the job-stress research. A quantitative approach in Phase 1 utilises the Job Stress Survey (Spielberger, 1994) and General Health Questionnaire- 12 (Goldberg, 1972) to measure the scale, severity and frequency of occupational stress in a sample of NHS managers (n=189).
Phase II involves a qualitative exploration of job-stress experienced by a sample of purposefully selected managers (n=12) using semi-structured interviews and computer-aided grounded theory analysis. The survey found that the prevalence of psychological ill health among the sample of managers (46.8%) was significantly higher then that of comparable NHS managers (32.8%) and managers in the general working population (21.3%). Phase II explained differential health outcomes through the characteristics or core categories of 'fit' versus 'unfit managers' who utilise a broad range of flexible coping strategies, reciprocal relationships, support, and robust, resilient personality characteristics, which act as stress resistance-resources. The study emphasises the importance of researching the moderating influence of personality, environment and support variables in order to account for differential health outcomes within the stressor-strain-health relationship and make recommendations for future action.
The case study demonstrates the use of a Multimodal approach, developed by Arnold Lazarus, (1989), to aid the assessment of a nurse suffering from multiple symptoms of chronic, work- related stress. The counselling psychologist integrates the Multimodal approach with Rational Emotive Behavioural Therapy, theory, techniques and strategies, and describes the content and process of the stress counselling programme.
The review details features of Antarctic isolation - its deprivations and delights - and the positive human strengths required to cope and adjust to the novel and unique physical and sociocultural environments of Antarctic research stations. It aims to facilitate human adjustment and performance and be a helpful guide for anybody who wonders how they might get on in similar circumstances.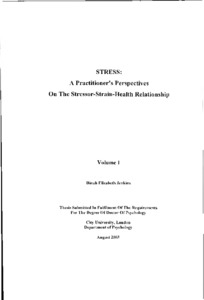 Preview
Text - Accepted Version


Download (8MB) | Preview
Export
Downloads
Downloads per month over past year
Altmetric

Altmetric
CORE (COnnecting REpositories)

CORE (COnnecting REpositories)
Actions (login required)

Actions (login required)