The Rite of Passage and Digital Mourning in Fang Fang's Wuhan Diary
Whyke, T. W., Lopez-Mugica, J. & Chen, T.

ORCID: 0000-0003-2450-277X (2021). The Rite of Passage and Digital Mourning in Fang Fang's Wuhan Diary. Global Media and China, 6(4), pp. 443-459. doi: 10.1177/20594364211041683
Abstract
Using Van Gennep's theory of Rite of Passage as its framework, this article examines the impact of Coronavirus (COVID-19) on Chinese culture as depicted through death and mourning in Wang Fang's (penname Fang Fang) recently published Wuhan Diary: Dispatches from a Quarantined City. As part of the efforts to control the outbreak, the Chinese government took over the managing of the deceased, which triggered heated discussions on Chinese social media. Fang Fang's diary, originally written as daily entries on Chinese social media platform Weibo, serves as a voice for those suffering during the pandemic, mediating between personal accounts, accounts of friends, family and those living in Wuhan during the pandemic. These flesh out how the virus has not only been disturbing for Chinese people's lives but also disrupted the death rites and mourning rituals for those who have passed. Our article infuses a digital ontological reading with an anthropological twist that helps to understand how the diary mitigates the disturbances to mourning rituals inside and outside the confines of digital metaphysics. We argue that the digital diary mitigates these disruptions by allowing Chinese people to nourish their sorrow by identifying with the symbolic rites of passage and mourning rituals online at the heart of the COVID-19 pandemic in Wuhan. In doing so, this article examines three stages of rite of passage, including separation, liminality and integration as they unfold in the diary, through which discourses and subjectivities based on collective and individual traumatic experiences are built, as a form of digital mourning that could reconcile both the official and the alternative voices of anonymous narratives about the handling of this crisis.
Publication Type:
Article
Additional Information:
© The Author(s) 2021. This article is distributed under the terms of the Creative Commons Attribution-NonCommercial 4.0 License (https://creativecommons.org/licenses/by-nc/4.0/) which permits non-commercial use, reproduction and distribution of the work without further permission provided the original work is attributed as specified on the SAGE and Open Access pages (https://us.sagepub.com/en-us/nam/open-access-at-sage). Request permissions for this article.
Publisher Keywords:
Wuhan Diary, rites of passage, digital subjectivities, digital mourning, COVID-19, death, commemoration, reintegration, reconciliation, coronavirus
Subjects:
G Geography. Anthropology. Recreation > GN Anthropology
H Social Sciences > H Social Sciences (General)
R Medicine > RA Public aspects of medicine > RA0421 Public health. Hygiene. Preventive Medicine
Departments:
School of Communication & Creativity > Media, Culture & Creative Industries > Media & Communications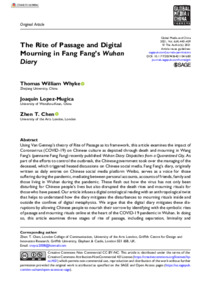 Preview
Text - Published Version
Available under License Creative Commons Attribution Non-commercial.
Download (625kB) | Preview
Export
Downloads
Downloads per month over past year
Altmetric

Altmetric
CORE (COnnecting REpositories)

CORE (COnnecting REpositories)
Actions (login required)

Actions (login required)