Environmental Information: Issues of Access, Policy and Information Resources Management
Beasley, C. (2002). Environmental Information: Issues of Access, Policy and Information Resources Management. (Unpublished Doctoral thesis, City, University of London)
Abstract
This thesis investigates access to information and presents a summative evaluation of a government information access policy. The primary aim of this research is to build upon the theoretical approaches already employed within the field of information policy, to develop a new analytical model that can be used in the analysis of information access policies. This model will then be employed to examine the case study chosen for this research, which is the register for Integrated Pollution Control (IPC), which was set up by the UK government to give the public greater access to environmental information.
This thesis is divided into three sections. The first examines both the background to access to environmental information and the particular case study employed in this research. It investigates the history of access to environmental information in the UK, charting the moves that have been made from secrecy towards greater openness. It then examines the Environmental Protection Act, 1990, which established the IPC registers, and investigates a number of issues which have effected the way in which environmental information is made available through the registers. In particular, it identifies policy implementation and information resources management (IRM) as having a dramatic effect on the success of this information access policy.
Having identified an important link between information access, policy implementation and IRM in relation to the case study, the second section of this thesis then examines these relationships in greater detail. This second section is divided into two parts. The first examines the relationship between information access, policy implementation and IRM through a review of the literature, and goes onto develop an 'information access model', which can be used in the examination of information access policies. This model is then used to drive the case study analysis which is carried out in second part of this section. This case study analysis examines the implementation of the EPC registers firstly, by local authorities, where it identifies the existence of an underlying structure in the data set and secondly, by the Environment Agency, where the IPC registers can be seen to have been implemented in a far more uniform way.
In part three of this thesis, the local authority and Environment Agency case study findings are then examined in light of the 'information access model'. This analysis enables a number of different management styles to be identified and highlights four key areas, which could be seen to have resulted in the development of successful registers. These were the approach to the policy problem, the use of planning, the development of set procedures and control over the policy. Finally, the validity of the 'information access model', as a research framework, is examined. The 'information access model' is analysed in light of the empirical evidence gathered as part of this research and it is concluded, that this can be seen both as a useful investigative and evaluative tool for information policy research.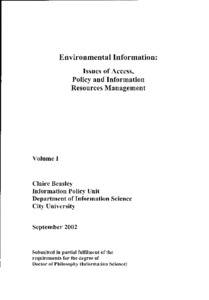 Preview
Text (Vol 1) - Accepted Version


Download (12MB) | Preview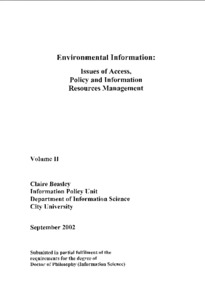 Preview
Text (Vol 2) - Accepted Version


Download (10MB) | Preview
Export
Downloads
Downloads per month over past year
Altmetric

Altmetric
CORE (COnnecting REpositories)

CORE (COnnecting REpositories)
Actions (login required)

Actions (login required)