Narcissistic personality features, self-reported anger and eating attitudes among non-clinical college population: An explorative study of underlying constructs
Kolonia, K. (2007). Narcissistic personality features, self-reported anger and eating attitudes among non-clinical college population: An explorative study of underlying constructs. (Unpublished Doctoral thesis, City, University of London)
Abstract
Introduction: The contribution of personality disorders to disordered eating has recently been of particular interest as an attempt to further understand the phenomenon and address therapeutic difficulties. Narcissism has been found to be more characteristic of individuals with anorexia nervosa or bulimia nervosa than those with other psychiatric disturbances. Literature suggests that both eating and narcissistic personality disordered individuals appear to have difficulty with recognising and tolerating negative emotions. Empirical corroboration of the mediating mechanisms between narcissistic personality disorder and bulimia nervosa is lacking. Additionally, research concerning gender differences, narcissism and anger has yielded equivocal results.
Aim: The aim of this study was to investigate the relationship between maladaptive aspects of narcissism, anger traits and different elements of eating disordered attitudes. The study also attempted to evaluate gender differences on the above mentioned variables and to investigate possible mediating mechanisms (i.e. anger) between narcissistic personality disorder and bulimic tendencies.
Method: One hundred and sixty non-clinical female and male participants have been recruited from universities' classrooms of six London and Surrey based universities. The O'Brien Multiphasic Narcissism Inventory (OMNI), the State-Trait Anger
Expression Inventory-2 (STAXI-2), the Eating Disorders Inventory-2 (EDI-2) and the Bulimic Investigatory Test Edinburgh (BITE) were used as the four measuring instruments for this study. Analysis has been carried out using Spearman's Rho correlations, Mann Whitney U tests, Mediation and Multiple regression analysis.
Results: An association between narcissistic personality disorder traits, its defensive style and eating disordered thoughts and behaviours was partially supported. There was also evidence to suggest some relationship between aspects of anger and disordered eating patterns as well as aspects of anger and narcissistic disturbance. Significant gender differences on eating attitudes and concerns were observed. Female and male college students did not differentiate on narcissistic personality traits, nor on ways of experiencing, expressing and controlling anger. Narcissistic personality disorder traits were found to be mediated by state anger on individuals with bulimic tendencies.
Conclusions: Pursuing more complex conceptualization and measurements of narcissism, anger and eating attitudes for both sexes is necessary for the better understanding of co-morbid disorders. Affect-driven therapeutic models need to be considered for the treatment of patients with narcissistic personality and /or eating disorder presentation as these individuals appear to have difficulties in anger experience, expression and control. Future research needs to evaluate therapeutic efficacy of those models in a clinical population and explore further the role of shame and emotional schemas in narcissistic pathology.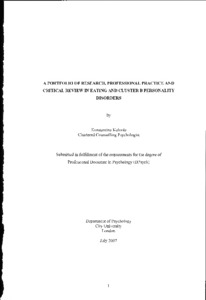 Preview
Text - Accepted Version


Download (10MB) | Preview
Export
Downloads
Downloads per month over past year
Altmetric

Altmetric
CORE (COnnecting REpositories)

CORE (COnnecting REpositories)
Actions (login required)

Actions (login required)