Dance, History and Deconstruction: Giselle and Beach Birds for Camera as Contrasting Sites for a Discussion of Issues of Meaning in Dance
Rimmer, V. (1998). Dance, History and Deconstruction: Giselle and Beach Birds for Camera as Contrasting Sites for a Discussion of Issues of Meaning in Dance. (Unpublished Doctoral thesis, City, University of London)
Abstract
This study is intended to contribute to the current concern in dance scholarship to reassess the ways in which dance can be defined, analysed, and interpreted. (Morris 1996: 3) It argues that traditional accounts of meaning have restricted the languages of dance works within discourses of history and literary hermeneutics.
The consequence of this position is that dance history and criticism are identified as privileged carriers of truth which subject the signifying capacities of dance to essentialising accounts of origin with the effect that the structures and processes that produce meaning are reduced to determining details of biography, intention,
and reconstruction. Using Derridean deconstruction, this thesis argues for a critical theoretical engagement with dance that discusses its continuous
productivity as a system of signification The dance works on which this reading will be based are Giselle and Beach Birds for Camera.
The two dance works are analysed in detail initially, using the methods of structuralist linguistic theory, to reveal the process of language in each of them. The critical account of Giselle explores the relation between ballet and Romanticism by focusing on the fundamental Romantic differentiation between symbolic and the allegorical language which is treated as articulating at the general level of language a structural differentiation between signs. Beach Birds for Camera is examined in terms of Jakobson's structural linguistics, which extends and defines Saussure's treatment of the linguistic sign. It uses metaphor and metonymy as organising principles of language to provide a theoretical framework from which to engage with Cunningham's concern with the irreducibility of dancing. By engaging reflexively with these dance works as signifying practices, both analyses provide the means to construct an interpretative position which questions traditional approaches to the issues of meaning in dance history and criticism.
This thesis applies the strategies of deconstruction to the detailed structuralist analyses of Giselle and Beach Birds for Camera using them as a context from which to explore the act of reading in order to understand the ways in which they engage the phenomena of textuality. Derridean deconstruction emphasises the irreducible play of meaning of the sign, and thus focuses on the conventions which boundarise meaning treating the latter as transitory cultural products that produce systems of representation in an attempt to limit the play of language to a version of origin. A deconstructive reading of Giselle and Beach Birds for Camera leads to a consideration of the processes of legitimation and authorisation that produce differences among readings. This is used to ground a critical consideration of the relations between structuralist and post-structuralist theory as a way of articulating and demonstrating reflexively a critical engagement with the act of reading.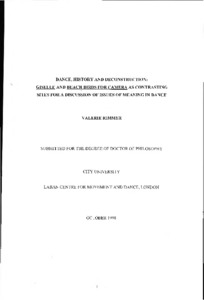 Preview
Text - Accepted Version


Download (8MB) | Preview
Export
Downloads
Downloads per month over past year
Altmetric

Altmetric
CORE (COnnecting REpositories)

CORE (COnnecting REpositories)
Actions (login required)

Actions (login required)