Creating False Rewarding Memories Guides Novel Decision-making
Wang, J., Otgaar, H. & Howe, M. L.

ORCID: 0000-0002-5747-5571 (2023). Creating False Rewarding Memories Guides Novel Decision-making. Journal of Experimental Psychology: Learning, Memory, and Cognition,
Abstract
When memories of past rewarding experiences are distorted, are relevant decision-making preferences impacted? Although recent research has demonstrated the important role of episodic memory in value-based decision-making, very few have examined the role of false memory in guiding novel decision-making. The current study combined the pictorial Deese/Roediger-McDermott (DRM) false memory paradigm with a reward learning task, where participants learned that items from some related lists gained reward and items from other lists led to no reward. Later, participants' memories and decision-making preferences were tested. With three experiments conducted in three countries, we successfully created false memories of rewarding experiences in which participants falsely remembered seeing a nonpresented lure picture bring them reward thereby confirming our constructiveassociation hypothesis. Such false memories led participants to prefer the lure pictures and respond faster in a follow-up decision-making task, and the more false memories they formed, the higher preferences for the lure items they displayed (Experiment 2). Finally, results were replicated with or without a memory test before the decisionmaking task, showing that the impact of false memory on decision-making was not cued by a memory test (Experiment 3). Our data suggest that the reconstructive nature of memory enables individuals to create new memory episodes to guide decisionmaking in novel situations.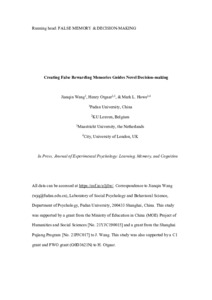 Preview
Text - Accepted Version


Download (1MB) | Preview
Export
Downloads
Downloads per month over past year