Initiating innovation in mature financial organisations
Davies, R. W. (1997). Initiating innovation in mature financial organisations. (Unpublished Doctoral thesis, City, University of London)
Abstract
This thesis is about innovation in mature organisations and responds to recent demands for research that expands the understanding of how organisations develop the capacity to rejuvenate. The research focuses upon the efforts of chief executives as they attempt to break down barriers to innovation in response to sudden and unforeseen changes in the competitive environment. Specific attention is given to the process of initiating innovation.
The research follows in the hypothetico-deductive tradition. The research sample consists of eight UK insurance companies that sought to grow organically through innovation in response to significant changes in the competitive environment during the period 1989 to 1992. As some had not produced a single new product in over ten years the effort required was considerable. Many organisations in the research sample have only recently completed the rejuvenation process. Using personal interviews, case studies reveal the process of change in each company. Eight case studies are examined, one developed on a real-time basis, the remaining studies being constructed retrospectively.
The findings show that a series of distinctly different organisational structures and management approaches are needed to stimulate innovation in mature organisations. In successful organisations, chief executives implemented three major episodes of change in rapid succession. The first has the objective of challenging cultural barriers, introduces the concept of customer focus and is accompanied by widespread changes to top management staff. The second episode of change encourages experimentation, introduces further increases in customer focus, new staff and skills. In successful organisations this second episode is seen as the point when innovative activities and strategies first develop that actually change the way that the organisation competes in the marketplace. The third and final episode acts to reinforce the organisation's newly found innovative capability. Less successful organisations approach the process of change in a less structured manner, typically attempting firstly to generate new competitive strategies rather than challenging established practices. At the end of the process, less successful organisations are typically characterised by a declining motivation to change and disagreement over the future direction of the organisation.
The findings expand understanding of the dynamic relationship between organisational structure and strategy where it has been an established tenet within the literature that structure follows strategy. Contrary to established expectations, we find that two episodes of structural change are required to stimulate innovative strategies. The findings conclude that a more holistic research approach is needed especially when the definition of strategy and structure is considered. When stimulating innovation in mature organisations, changes to management style and top level staff may be of equal if not greater importance than alterations to the more established dimensions of structure such as the centralisation of decision making and formalisation of procedures.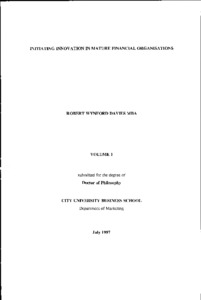 Preview
Text (Volume 1) - Accepted Version


Download (11MB) | Preview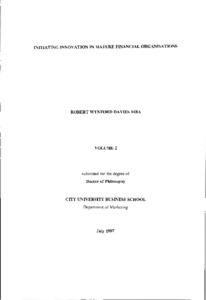 Preview
Text (Volume 2) - Accepted Version


Download (5MB) | Preview
Export
Downloads
Downloads per month over past year
Altmetric

Altmetric
CORE (COnnecting REpositories)

CORE (COnnecting REpositories)
Actions (login required)

Actions (login required)