An empirical investigation of the relationship between perceived risk and the varying patterns of brand portrayal
De Mallo, S. C. B. (1997). An empirical investigation of the relationship between perceived risk and the varying patterns of brand portrayal. (Unpublished Doctoral thesis, City, University of London)
Abstract
Today, branding is recognised as a key marketing tool and brands, in turn, are recognised as key components of business capital. By adding to recognition, it is claimed that branding reduces the buyer's perception of risk and makes products easier to accept. This alone justifies research that seeks to integrate thinking between branding and buyer risk perception. Where this research strives to move forward, however, is through the recognition that different buyers may perceive different profiles of risk - especially along a 'hard - soft ' continuum - and, therefore look for different cues in brand portrayal. This has important implications for brand management.
The research concentrated on organisational buying in the broad sector of IT equipment purchases. It set out to investigate empirically the reactions of organisational buyers to different brand cues, according to their varying risk perspectives. It was carried out through an intensive mail survey of all firms in the six largest States of the Brazilian Federation operating in two key business sectors - Pharmaceuicals and Clothing. This survey - which achieved a high response rate - was preceded by extensive semi-structured interviewing to identify key variables and to develop a questionnaire instrument.
Within a cognitive psychology paradigm, seven hypotheses were advanced. Summarising these, the study first shows that buyers perceiving high risk tend to show closer self-congruence in relation to their preferred brand than do buyers perceiving low risk. This seems to justify arguments for branding as a marketing strategy. More importantly, buyers who perceived high levels of psychosocial ('soft') risk tended to place higher value on emotional (equally 'soft') brand images than did those who perceived lower psychosocial risk. On the other hand, buyers perceiving high economic ('hard) risk tended to value higher functional brand-images. What may be less obvious is that buyers across the whole risk spectrum show a clear tendency to value emotional brand image while only buyers who perceive high levels of economic risk are especially responsive to functional brand image.
When testing for demographic differences, psychosocial risk perception was found to be influenced by the amount of experience the buyer has but the same can not be said about economic risk perception. The company's size was found to influence psychosocial risk perception and not economic risk perception.
Conclusions and recommendations are discussed. They include: as self-congruence seems to influence the final choice decision, marketers should try to understand their target market in terms of level and type of risk perception and demographics. Different buyers, with varying perceptions of risk, do seem to react differently to varying brand portrayal. This could be a valuable planning tool. The key question remaining is how these different segments of risk perceivers can be recognised efficiently in a marketing or sales.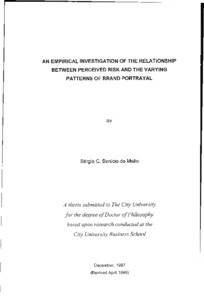 Preview
Text - Accepted Version


Download (21MB) | Preview
Export
Downloads
Downloads per month over past year
Altmetric

Altmetric
CORE (COnnecting REpositories)

CORE (COnnecting REpositories)
Actions (login required)

Actions (login required)