The Impact of Sexual Harassment on Job Satisfaction in Newsrooms
Blumell, L.

ORCID: 0000-0003-4608-9269, Mulupi, D. & Arafat, R. (2023). The Impact of Sexual Harassment on Job Satisfaction in Newsrooms. Journalism Practice, doi: 10.1080/17512786.2023.2227613
Abstract
Despite the pervasiveness of workplace sexual harassment, the connection between sexual harassment and job satisfaction in the news industry remains insufficiently researched. This 16-country and one state study (N = 1583) sampled news personnel from Sub-Saharan Africa, Southeast Asia, and the Arab region. The results expand current knowledge by examining understudied countries, measuring the impact of sexual harassment on job satisfaction, and evaluating differences in how people perceive gender equality in the news industry. Results show that both verbal and physical sexual harassment are common, underreported, and impact job satisfaction—challenging common misconceptions that there are only few cases of "real" sexual harassment with negative consequences. Sub-Saharan African countries had the lowest job satisfaction and the highest experienced sexual harassment. Southeast Asia had the highest job satisfaction and the lowest experienced sexual harassment. Men had higher levels of job satisfaction and gender equality perceptions than women. The results also highlight power imbalances that reinforce gendered hierarchies.
| | |
| --- | --- |
| Publication Type: | Article |
| Additional Information: | © 2023 The Author(s). Published by Informa UK Limited, trading as Taylor & Francis Group This is an Open Access article distributed under the terms of the Creative Commons Attribution License (http://creativecommons.org/licenses/by/4.0/), which permits unrestricted use, distribution, and reproduction in any medium, provided the original work is properly cited. The terms on which this article has been published allow the posting of the Accepted Manuscript in a repository by the author(s) or with their consent. |
| Publisher Keywords: | Job satisfaction, sexual harassment, news industry, journalism, gendered inequalities, Africa, Asia, Arab region |
| Subjects: | H Social Sciences > H Social Sciences (General) |
| Departments: | School of Communication & Creativity > Journalism |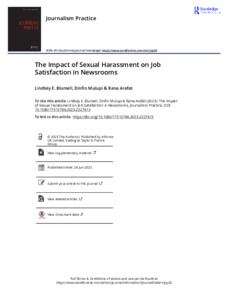 Preview
Text - Published Version
Available under License Creative Commons Attribution.
Download (1MB) | Preview
Export
Downloads
Downloads per month over past year