Understanding and supporting the health literacy of young men in prison: a mixed-methods study
Mehay, A.

ORCID: 0000-0001-7329-9056, Meek, R. & Ogden, J. (2021). Understanding and supporting the health literacy of young men in prison: a mixed-methods study. Health Education, 121(1), pp. 93-110. doi: 10.1108/HE-08-2020-0076
Abstract
Purpose
Prisons offer a public health opportunity to access a group with multiple and complex needs and return them to the community with improved health. However, prisons are not conducive to optimal health and there are few frameworks to guide efforts. This study aims to generate insights into health literacy across a young adult prison population, specifically examining the level of limitations, barriers and characteristics associated with these limitations.
Design/methodology/approach
The study took place in a single prison in England for young adult men aged 18–21 years old. A mixed-methods design was adopted with 104 young men completing a quantitative survey and qualitative semi-structured interviews with 37 young men.
Findings
72% (n = 75) of young men scored as limited in their health literacy. Barriers included structural restrictions, limited access to formal support and social and natural disruptions. No demographic characteristics or smoking intentions/behaviours predicted limited health literacy, but characteristics of the prison were predictive. Physical problems (sleep, nausea, tiredness and headaches), mental health and well-being (anxiety, depression and affect) and somatisation problems were also predictive of limitations.
Practical implications
Prison healthcare services and commissioners should undertake regular health literacy needs assessments to support developments in reducing barriers to healthcare and increasing health improvement efforts. Action also requires greater political will and investment to consider broader action on the wider determinants of (prison) health.
Originality/value
The study provides a framework to understand and guide prison health efforts and highlights attention needed at the level of governments, prison leaders and their health systems.
Publication Type:
Article
Additional Information:
This author accepted manuscript is deposited under a Creative Commons Attribution Non-commercial 4.0 International (CC BY-NC) licence. This means that anyone may distribute, adapt, and build upon the work for non-commercial purposes, subject to full attribution. If you wish to use this manuscript for commercial purposes, please contact permissions@emerald.com
Publisher Keywords:
prison health, health literacy, young adulthood, healthy prison, health promotion, disease prevention, health inequality, public health
Subjects:
H Social Sciences > HM Sociology
H Social Sciences > HN Social history and conditions. Social problems. Social reform
R Medicine > RA Public aspects of medicine > RA0421 Public health. Hygiene. Preventive Medicine
Departments:
School of Health & Psychological Sciences > Healthcare Services Research & Management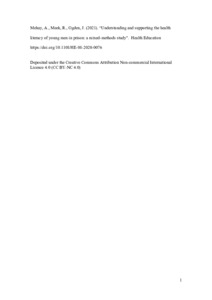 Preview
Text - Accepted Version
Available under License Creative Commons Attribution Non-commercial.
Download (508kB) | Preview
Export
Downloads
Downloads per month over past year
Altmetric

Altmetric
CORE (COnnecting REpositories)

CORE (COnnecting REpositories)
Actions (login required)

Actions (login required)