Community-based perinatal mental health peer support: a realist review
McLeish, J., Ayers, S.

ORCID: 0000-0002-6153-2460 & McCourt, C.

ORCID: 0000-0003-4765-5795 (2023). Community-based perinatal mental health peer support: a realist review. BMC Pregnancy and Childbirth, 23, 570. doi: 10.1186/s12884-023-05843-8
Abstract
BACKGROUND: Peer support has been suggested as an alternative or complement to professional support for mothers with perinatal mental health difficulties. The aim of this realist review was to synthesise the evidence on perinatal mental health peer support programmes outside mental health services, to understand what is it about community-based perinatal mental health peer support that works, for whom, in what circumstances, in what respects, and why.
METHODS: Applying realist methodology, an initial theoretical model was tested against evidence from empirical studies. 29 empirical studies were included, covering 22 antenatal and postnatal mental health interventions that offered one-to-one or group peer support, in person or by telephone. Data extraction identified the configurations of contexts (C), mechanisms (M) and outcomes (O) relevant to mothers' use of peer support and to the positive and negative effects of using peer support.
RESULTS: 13 C-M-O configurations explained take-up of peer support. These were based on mothers' perceptions that peer support would offer empathetic understanding and non-judgemental acceptance outside their social circle; their relationships with primary health professionals; their cultural background and perspectives on mental health; their desire for professional support; overcoming practical barriers; the format of the support; and the use of volunteers. A further 13 C-M-O configurations explained positive impact on mothers. These were based on receiving empathetic listening, acceptance, affirmation and normalisation; peers sharing ideas about self-care, coping, and services; peers using therapeutic techniques; the opportunity to give support to others; meaningful social relationships with volunteers and other mothers; and other benefits of attending a group. There were 8 C-M-O configurations explaining negative impact. These were based on lack of validation; self-criticism from downward and upward social comparison; a culture of negativity; peers being judgemental or directive; not feeling heard; peer support as a stressful social relationship; and distress at endings.
CONCLUSIONS: Peer support works in complex ways that are affected by personal and social contexts. Providers, commissioners and evaluators can use this review to understand and maximise the valuable benefits of peer support, to minimise potential risks, and to devise ways of reaching mothers who do not currently engage with it.
Publication Type:
Article
Additional Information:
This article is licensed under a Creative Commons Attribution 4.0 International License, which permits use, sharing, adaptation, distribution and reproduction in any medium or format, as long as you give appropriate credit to the original author(s) and the source, provide a link to the Creative Commons licence, and indicate if changes were made. The images or other third party material in this article are included in the article's Creative Commons licence, unless indicated otherwise in a credit line to the material. If material is not included in the article's Creative Commons licence and your intended use is not permitted by statutory regulation or exceeds the permitted use, you will need to obtain permission directly from the copyright holder. To view a copy of this licence, visit http://creativecommons.org/licenses/by/4.0/. The Creative Commons Public Domain Dedication waiver (http://creativecommons.org/publicdomain/zero/1.0/) applies to the data made available in this article, unless otherwise stated in a credit line to the data.
Publisher Keywords:
Peer support, Mental health, Antenatal, Postnatal, Community-based, Realist, Context, Mechanism
Subjects:
B Philosophy. Psychology. Religion > BF Psychology
R Medicine > RA Public aspects of medicine > RA0421 Public health. Hygiene. Preventive Medicine
R Medicine > RG Gynecology and obstetrics
Departments:
School of Health & Psychological Sciences > Midwifery & Radiography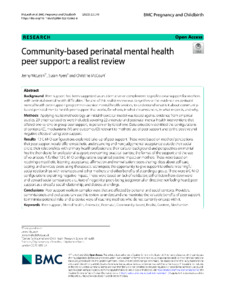 Preview
Text - Published Version
Available under License Creative Commons: Attribution International Public License 4.0.
Download (1MB) | Preview
Export
Downloads
Downloads per month over past year
Altmetric

Altmetric
CORE (COnnecting REpositories)

CORE (COnnecting REpositories)
Actions (login required)

Actions (login required)