A qualitative investigation into patients' views on visual field testing for glaucoma monitoring
Glen, F., Baker, H. & Crabb, D. P. (2014). A qualitative investigation into patients' views on visual field testing for glaucoma monitoring. BMJ Open, 4(1), doi: 10.1136/bmjopen-2013-003996
Abstract
Objectives: To investigate the views and experiences of patients regarding their glaucoma follow-up, particularly towards the type and frequency of visual field (VF) testing.
Design: A qualitative investigation using focus groups. The group discussion used broad open questions around the topics in a prompt guide relating to experiences of glaucoma follow-up, and in particular, VF monitoring. All the groups were taped, transcribed and coded using manual and computer-aided methods.
Setting: Three National Health Service (NHS) hospitals in England; two focus groups took place at each hospital.
Participants: 28 patients (mean (SD) age: 74 (9) years; 54% women) diagnosed with glaucoma for at least 2 years. Each focus group consisted of 3–6 patients.
Primary and secondary outcomes: (1) Attitudes and experiences of patients with glaucoma regarding VF testing. (2) Patients' opinions about successful follow-up in glaucoma.
Results: These patients did not enjoy the VF test but they recognised the importance of regular monitoring for preserving their vision. These patients would agree to more frequent VF testing on their clinician's recommendation. A number of themes recurred throughout the focus groups representing perceived barriers to follow-up care. The testing environment, waiting times, efficiency of appointment booking and travel to the clinic were all perceived to influence the general clinical experience and the quality of assessment data. Patients were also concerned about aspects of patient–doctor communication, and often received little to no feedback about their results.
Conclusions: Patients trust the clinician to make the best decisions for their glaucoma follow-up. However, patients highlighted a number of issues that could compromise the effectiveness of VF testing. Addressing patient-perceived barriers could be an important step for devising optimal strategies for follow-up care.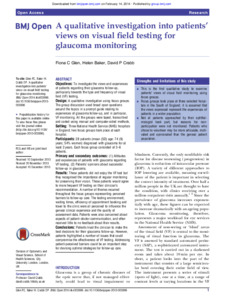 Preview
PDF
Available under License Creative Commons: Attribution-Noncommercial 3.0.
Download (992kB) | Preview
Export
Downloads
Downloads per month over past year
Altmetric

Altmetric
CORE (COnnecting REpositories)

CORE (COnnecting REpositories)
Actions (login required)

Actions (login required)