A Modified Loss Breakdown Approach for Axial Turbines Operating With Blended Supercritical Carbon Dioxide
Abdeldayem, A. S., Salah, S. I., White, M. T.

ORCID: 0000-0002-7744-1993 & Sayma, A. I.

ORCID: 0000-0003-2315-0004 (2023). A Modified Loss Breakdown Approach for Axial Turbines Operating With Blended Supercritical Carbon Dioxide. Journal of Engineering for Gas Turbines and Power, 145(8), 081002. doi: 10.1115/1.4062478
Abstract
In this paper, a modified loss breakdown approach is introduced for axial turbines operating with supercritical carbon dioxide (sCO2) mixtures using computational fluid dynamics (CFD) results. Loss breakdown analysis has been previously developed using two approaches, however each approach has its own uncertainties. The first approach neglects the effects of the cross-interaction between the different loss sources, while the second approach ignores the potential changes to the boundary layer thicknesses and the loss source domains. Although the second methodology accounts for the interactions between the different loss sources, it may produce less accurate predictions for compact machines like sCO2 turbines where the boundary layer may dominate the flow passage. The proposed methodology aims to obtain the turbine loss breakdown using a single CFD model where all sources of aerodynamic loss coexist, while considering variable loss regions defined based on the velocity and entropy distribution results. A steady-state, single-stage, single-passage, three-dimensional numerical model is setup to simulate the turbine and verify the loss audit methodology. The results are verified against the published loss audit methodologies for a 130 MW axial turbine operating with CO2/C6F6 blend, designed using an in-house mean line design code. The results show a good agreement between the proposed approach and the multiple-model approaches from the literature. However, the existing approaches appear to overestimate endwall losses by 13–16% and underestimate the profile losses by 11–31% compared to the proposed approach. Compared to the Aungier mean line loss model, large differences in loss sources are observed from the CFD results, especially for the stator and rotor endwall losses which are found to be 3.2 and 1.6 times the CFD values, respectively. This helps to indicate limitations in existing mean line loss models.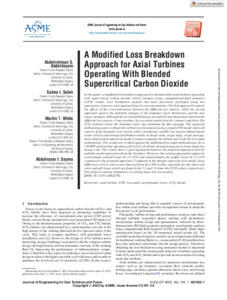 Preview
Text - Published Version
Available under License Creative Commons: Attribution International Public License 4.0.
Download (3MB) | Preview
Export
Downloads
Downloads per month over past year