Making Sense of Electrical Stimulation: A Meta-analysis for Wound Healing
Rabbani, M., Rahman, E., Powner, M. B.

ORCID: 0000-0003-4913-1004 & Triantis, I. F.

ORCID: 0000-0002-8900-781X (2023). Making Sense of Electrical Stimulation: A Meta-analysis for Wound Healing. Annals of Biomedical Engineering, doi: 10.1007/s10439-023-03371-2
Abstract
Electrical stimulation as a mode of external enhancement factor in wound healing has been explored widely. It has proven to have multidimensional effects in wound healing including antibacterial, galvanotaxis, growth factor secretion, proliferation, transdifferentiation, angiogenesis, etc. Despite such vast exploration, this modality has not yet been established as an accepted method for treatment. This article reviews and analyzes the approaches of using electrical stimulation to modulate wound healing and discusses the incoherence in approaches towards reporting the effect of stimulation on the healing process. The analysis starts by discussing various processes adapted in in vitro, in vivo, and clinical practices. Later it is focused on in vitro approaches directed to various stages of wound healing. Based on the analysis, a protocol is put forward for reporting in vitro works in such a way that the outcomes of the experiment are replicable and scalable in other setups. This work proposes a ground of unification for all the in vitro approaches in a more sensible manner, which can be further explored for translating in vitro approaches to complex tissue stimulation to establish electrical stimulation as a controlled clinical method for modulating wound healing.
Publication Type:
Article
Additional Information:
This article is licensed under a Creative Commons Attribution 4.0 International License, which permits use, sharing, adaptation, distribution and reproduction in any medium or format, as long as you give appropriate credit to the original author(s) and the source, provide a link to the Creative Commons licence, and indicate if changes were made. The images or other third party material in this article are included in the article's Creative Commons licence, unless indicated otherwise in a credit line to the material. If material is not included in the article's Creative Commons licence and your intended use is not permitted by statutory regulation or exceeds the permitted use, you will need to obtain permission directly from the copyright holder. To view a copy of this licence, visit http://creativecommons.org/licenses/by/4.0/.
Publisher Keywords:
Stimulation protocol, Wound healing, Electro-modulation, Skin wounds, Impedivity, Current of injury, Trans-epithelial potential, Electrodes
Subjects:
R Medicine > R Medicine (General)
T Technology > TK Electrical engineering. Electronics Nuclear engineering
Departments:
School of Health & Psychological Sciences > Optometry & Visual Sciences
School of Science & Technology > Engineering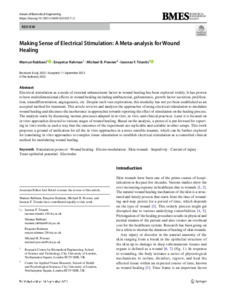 Preview
Text - Published Version
Available under License Creative Commons Attribution.
Download (2MB) | Preview
Export
Downloads
Downloads per month over past year