Understanding Autistic Adults' Use of Social Media
van Driel, M., Vines, J., Barros Pena, B.

ORCID: 0000-0003-4035-1860 & Koteyko, N. (2023). Understanding Autistic Adults' Use of Social Media. Proceedings of the ACM on Human-Computer Interaction, 7(CSCW2), 257. doi: 10.1145/3610048
Abstract
Autism is a developmental condition that impacts 1 in 100 people \citeNationalAutisticSociety2021. It affects autistic people's interactional and sensory preferences and behaviours. Autistic people can find interactions difficult in part due to sensory overwhelm. Interacting online can provide a positive alternative that allows for interactions on their own terms. However, most social media platforms are designed by neurotypical standards and can therefore inhibit full participation by autistic users. We demonstrate through the analysis of 34 semi-structured interviews with autistic adults that current social media design is not sufficient for creating an inclusive environment and enabling participation from autistic adults. We identified six themes across the interviews: (1) 'Social Media compared to In-Person Interactions', (2) 'Social Media as Enabling/Overwhelming', (3) 'Perceived Social Norms', (4) 'Keeping Connected and Finding New Communities', (5) 'Keeping Control through Systematic Practices', and (6) 'Being Authentic'. The themes demonstrate the attention that autistic adults give to online interaction, suggesting that online interactions may be just as fraught as in-person interactions have been shown to be. In order to become more inclusive of autistic adults, we recommend that social media platforms expand low-effort participation features, provide increased control over algorithmic content, support expression of intent and tone, aid discovery of interactional norms, and reinforce interest-based sociality.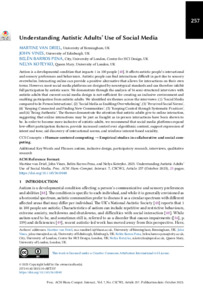 Preview
Text - Published Version
Available under License Creative Commons: Attribution International Public License 4.0.
Download (275kB) | Preview
Export
Downloads
Downloads per month over past year