UN Peacekeeping at 75: Achievements, Challenges, and Prospects
Duursma, A., Bara, C., Wilén, N. , Hellmüller, S., Karlsrud, J., Oksamytna, K.

ORCID: 0000-0001-7725-3151, Bruker, J., Campbell, S. E., Cusimano, S., Donati, M.A., Dorussen, H., Druet, D., Geier, V., Epiney, M., Geier, V., Gelot, L., Gyllensporre, D., Hiensch, A., Hultman, L., Hunt, C. T., Krishnan, R. C., Labuda, P. I., Langenbach, S., Norberg, A. H., Novosseloff, A., Oriesek, D., Rhoads, E. P., Re, F., Russo, J., Sauter, M., Smidt, H. M., Staeger, U. & Wenger, A. (2023). UN Peacekeeping at 75: Achievements, Challenges, and Prospects. International Peacekeeping, doi: 10.1080/13533312.2023.2263178
Abstract
This year marks the 75th anniversary of what the UN itself understands to be its first peacekeeping operation. It is therefore an appropriate time to reflect on the track record of UN peacekeeping in its efforts to try to maintain and realize peace and security. Moreover, this milestone invites us to ponder what lies ahead in the realm of peacekeeping. For this reason, this forum article brings together both academics and UN officials to assess the achievements and challenges of UN peacekeeping over the past 75 years. Through a dialogue among peacekeeping scholars and practitioners, we hope to identify current trends and developments in UN peacekeeping, as well as explore priorities for the future to improve the effectiveness of peacekeeping operations in terms of achieving their mandate objectives, such as maintaining peace, protecting civilians, promoting human rights, and facilitating reconciliation. This forum article is structured into six thematic sections, each shedding light on various aspects of UN peacekeeping: (1) foundational principles of UN peacekeeping - namely, consent, impartiality, and the (non-)use of force; (2) protection of civilians; (3) the primacy of politics; (4) early warning; (5) cooperation with regional organizations; and (6) the changing geopolitical landscape in which UN peacekeeping operates.
Publication Type:
Article
Additional Information:
© 2023 The Author(s). Published by Informa UK Limited, trading as Taylor & Francis Group. This is an Open Access article distributed under the terms of the Creative Commons Attribution-NonCommercial-NoDerivatives License (http://creativecommons.org/licenses/by-nc-nd/4.0/), which permits non-commercial re-use, distribution, and reproduction in any medium, provided the original work is properly cited, and is not altered, transformed, or built upon in any way. The terms on which this article has been published allow the posting of the Accepted Manuscript in a repository by the author(s) or with their consent.
Publisher Keywords:
United Nations; peacekeeping; consent; impartiality; use of force; protection of civilians; primacy of politics; mediation; early warning; partnership peacekeeping; geopolitical; future
Subjects:
H Social Sciences > HV Social pathology. Social and public welfare
J Political Science > JA Political science (General)
J Political Science > JZ International relations
Departments:
School of Policy & Global Affairs > International Politics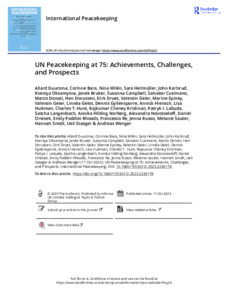 Preview
Text - Published Version
Available under License Creative Commons Attribution Non-commercial No Derivatives.
Download (4MB) | Preview
Export
Downloads
Downloads per month over past year
Altmetric

Altmetric
CORE (COnnecting REpositories)

CORE (COnnecting REpositories)
Actions (login required)

Actions (login required)