Assurance process for sustainability reporting: Towards a conceptual framework
Yan, M.

ORCID: 0000-0002-3170-0582, Jia, F., Chen, L. & Yan, F. (2022). Assurance process for sustainability reporting: Towards a conceptual framework. Journal of Cleaner Production, 377, 134156. doi: 10.1016/j.jclepro.2022.134156
Abstract
This paper seeks to provide insights into the sustainability report assurance process by exploring how reporting firms and assurance providers work together to produce high-quality and credible assurance outcomes. In this literature review, the assurance process is conceptualised as a systematic procedure that incorporates the detail of assurance work along with associated barriers and ethical issues. Based on a review of 87 identified papers on this topic covering 2003–2021, this paper develops a conceptual framework of the assurance process by dividing it into five steps—assurance provider selection, identification, screening, validation and evaluation—and then explains the logic underlying these steps by synthesising the findings from the identified papers. Furthermore, barriers that impede the adoption of and issues that constrain the benefits of sustainability assurance are also identified, such as the absence of stakeholder engagement or independence of the assurance provider. Overall, this paper focuses on the assurance process for sustainability reports, contributing to the conceptual development of sustainability reporting and providing a comprehensive framework for future study in this emerging field. In addition, this paper also provides both assurance providers and reporting firms with a detailed roadmap for decision-making regarding sustainability assurance.
| | |
| --- | --- |
| Publication Type: | Article |
| Additional Information: | © 2022. This manuscript version is made available under the CC-BY-NC-ND 4.0 license https://creativecommons.org/licenses/by-nc-nd/4.0/(opens in new tab/window) |
| Publisher Keywords: | Corporate social responsibility, Conceptual framework, Sustainability assurance, Literature review |
| Subjects: | K Law > K Law (General) |
| Departments: | The City Law School > Academic Programmes |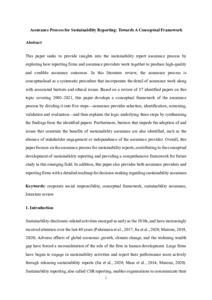 Preview
Text - Accepted Version
Available under License Creative Commons Attribution Non-commercial No Derivatives.
Download (481kB) | Preview
Export
Downloads
Downloads per month over past year