Interface engineering of carbon fiber composites using CNT: A review
Sahu, R., Ponnusami, S. A.

ORCID: 0000-0002-2143-8971, Weimer, C. & Harursampath, D. (2023). Interface engineering of carbon fiber composites using CNT: A review. Polymer Composites, doi: 10.1002/pc.27772
Abstract
This paper aims to explore the potential of carbon nanotubes (CNTs) in enhancing the structural capability and multifunctionality of carbon fiber composites in aerospace applications, primarily by focusing on interfacial applications. The conventional method of dispersing CNTs in a matrix is not fully efficient in exploiting the mechanical and multifunctional performance of CNTs. Hence, the use of CNTs at the interface or as a coating on the surface of carbon fibers has been suggested as a means of achieving multifunctionality, in addition to enhanced mechanical performance. The paper presents an overview of the various processes for growing CNTs on carbon fiber surfaces and examines the effects of CNT geometry and growth parameters on the properties of grafted fibers and their composites. Furthermore, it discusses the potential improvements in thermal and electrical conductivity achievable by incorporating CNTs at the interface, as well as the benefits of using CNTs as a sizing layer for carbon fibers, including enhanced fracture toughness and resistance to delamination. Highlights: Comprehensive study of interface engineering in carbon fibers and Carbon Fibre Reinforced Plastic (CFRPs) using carbon nanotubes (CNTs). Improved transverse mechanical properties and overall thermal and electrical properties. Multifunctional applications possible with the use of CNT. Both experimental and numerical studies reviewed.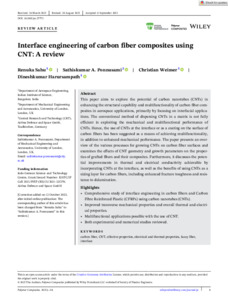 Preview
Text - Published Version
Available under License Creative Commons Attribution.
Download (6MB) | Preview
Export
Downloads
Downloads per month over past year