Mental health and service use of parents with and without borderline intellectual functioning
Rudra, S., McManus, S.

ORCID: 0000-0003-2711-0819, Hassiotis, A. & Ali, A. (2023). Mental health and service use of parents with and without borderline intellectual functioning. Psychological Medicine, doi: 10.1017/s0033291723003136
Abstract
Background
People with borderline intellectual functioning (BIF) encounter greater social adversities than the general population and have an increased prevalence of mental illness. However, little is known about the socio-demographic characteristics and mental health of parents with BIF.
Methods
A secondary data analysis of the Adult Psychiatric Morbidity Survey 2014 was conducted. Logistic regression models were fitted to compare differences in socio-demographic, mental health and service-use characteristics between parents and non-parents with and without BIF, and to investigate if the relationship between parent status and mental health outcomes was modified by BIF status, sex, and employment.
Results
Data from 6872 participants was analyzed; 69.1% were parents. BIF parents had higher odds of common mental disorder, severe mental illness, post-traumatic stress disorder, self-harm/suicide and were more likely to see their General Practitioner (GP) and to receive mental health treatment than non-BIF parents. BIF parents did not have a higher prevalence of mental health problems than BIF non-parents. Being a parent, after adjusting for BIF status and other confounders, was associated with increased odds of having a common mental disorder, visits to see a GP and treatment for mental health. Female parents had higher odds of treatment for mental health problems.
Conclusions
Being a parent is associated with elevated rates of common mental disorders. There is a higher burden of mental health problems and service use in people with BIF. A greater provision of specialist support services including ascertainment is indicated for this group.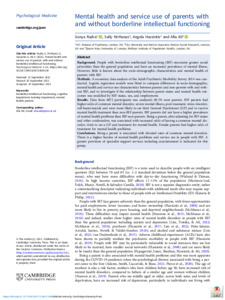 Preview
Text - Published Version
Available under License Creative Commons Attribution.
Download (242kB) | Preview
Export
Downloads
Downloads per month over past year